Two hundred bicycles and accessories were handed over on Friday to the Guyana Police Force (GPF) and the Georgetown City Constabulary by the United States at the Tactical Service Unit Square, Eve Leary.
The donation worth over US$145,000 will see the GPF receiving 170 bicycles and 30 being allocated to the City Constabulary, according to the Department of Public Information (DPI).
Speaking at the handing over ceremony, Minister of Public Security, Khemraj Ramjattan thanked US Ambassador Perry Holloway and described the initiative as in keeping with the government's 'Green Economy' agenda.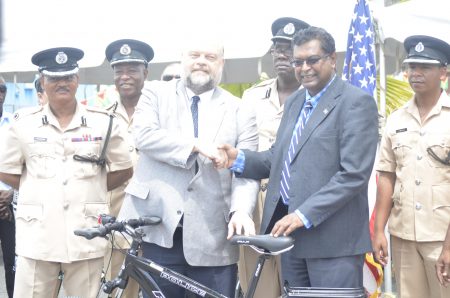 Ramjattan said, according to DPI, that the government recognised that the vehicles bought for the Guyana Police Force were damaged quite quickly which led to a number of officers being charged, when it is confirmed that they indeed drove recklessly.
Therefore, he urged the officers who will be receiving training to care and maintain the equipment.
Ambassador Holloway said that this initiative is one of the US government's efforts to support Guyana's Community Outreach Programme.
He noted that the donation will help increase the visibility of police officers and build trust with citizens.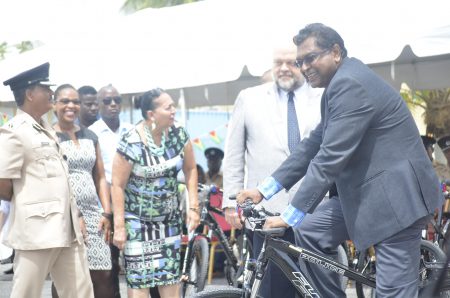 "On behalf of INL (International Narcotics and Law enforcement), I am delighted to be here today to underscore the United States' ongoing commitment to promoting community policing in Guyana," the US Ambassador said.
It was pointed out that the US government had provided training for 12 officers of the GPF and City Constabulary through police cycling training with the Las Vegas Metropolitan Police Department in 2016.
Mayor of Georgetown Patricia Chase-Green said that the donation is part of a broader commitment to a stronger regional security. She said that officers already trained in police cycling will instruct others how to ride the bicycles
Meanwhile, on behalf of Essential Supplies Incorporated, Clear Waters, Marketing Sales and Distribution Manager, Amarjeet Hardat donated 200 chairs which will be distributed to various police stations, DPI said.
Around the Web