Deputy Mayor of Georgetown,  Lionel Jaikarran has said that he would be recommending to Town Clerk Royston King that  city workers complete the demolition of the Astor Cinema and have the cost of the works attached to the rates for the property.
Jaikarran said that he has received complaints from persons of the unsafe environment and has since informed the City Engineer Colvern Venture of the concerns expressed to him by members of the public.
"I received a phone call from a neighbouring business and I've since called City Engineer Venture who said he will visit the site," he said, adding that it is unclear if the engineer had visited.
Jaikarran said based on an explanation provided by Venture, the city administration has repeatedly spoken with and written to the new owners, but "they are being delinquent and not responding."
The building is currently being torn down by a group of men who have no experience in the demolition of large structures.
Safety concerns were raised by passers-by over the fact that there are no caution cordons around the area to inform persons that the building is being demolished, debris is being placed along the sides of the road and the workers are not equipped with any safety gear.
A visit by Stabroek News to the site of the former cinema, at the junction of Waterloo and Church streets, revealed that the building is leaning towards Waterloo Street, and most of the wooden structure of the eastern wall had been removed. It was explained that a part of the building had crumbled.
This newspaper was unable to contact either Venture or the new owners for a comment.
Georgetown resident Don Singh, yesterday called on the council to put measures in place and prevent a disaster from happening.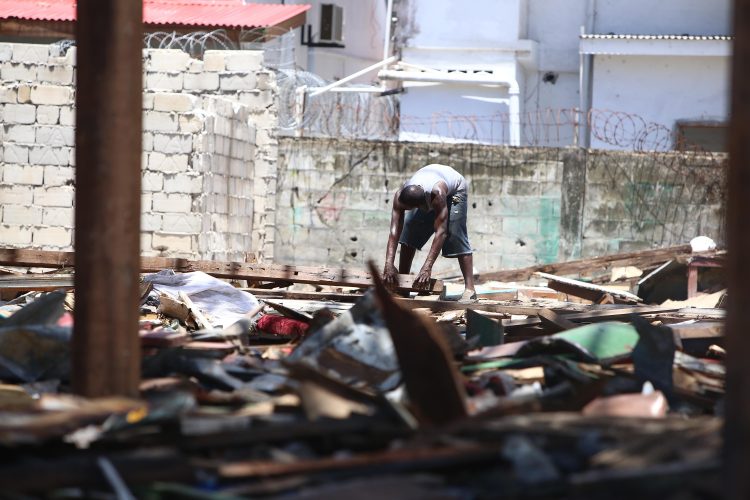 "This is disaster waiting to happen. Cars are always there waiting on traffic to cross. I hope someone sees this and gets proactive!" he said, adding that "I hope that the Town Clerk responds to this impending disaster as fast as he removes vendors."
The Council had instructed the new owners of the Astor Cinema building to halt demolition until they put safety measures in place to protect both the workers and members of the public.
However, the instructions were ignored and workers continued to pull down the derelict building. It was observed that the men who are conducting the demolition work had draped old film around the building as a makeshift cordon, which served no useful purpose since persons could not easily identify it.
In the last week of July, workers began dismantling the building. The once popular Astor Cinema had been abandoned since its closure in April, 2013. It was the last city cinema to close its doors. The Globe, Empire, Metropole, Plaza and Strand cinemas, all in central Georgetown had long been out of commission, along with the Star in Albouystown, and Hollywood and Liberty in the Kitty area.
Around the Web