A $50 million repair of the roof on the Camp Street Headquarters of the Guyana Revenue Authority (GRA) has begun.  Commissioner General Godfrey Statia told Stabroek News on Tuesday that the renovation should be completed by the end of September.
"Thereafter the building should not flood when it rains and the mold presently in the building will be treated so as to minimize illness and sick leave," he further explained.
Stabroek News had previously reported the complaints of staff who said having to work in the building which is infested with mold was making them sick.  The mold had developed as a result of numerous leakages in the building which consistently floods whenever it rains. Speaking with Stabroek News in August 2015 Chairman of the GRA Board, Rawle Lucas  had referred to the roof as a "sieve" and explained that some staff and customers are forced to use umbrellas while in the building because of leaks.
Five days later Minister of Finance Winston Jordan told the National Assembly that the government is looking to relocate the GRA office as the Camp Street office was "not fit for occupation."
Jordan told the National Assembly that the building was found to be "structurally, I don't want to use the word unsafe because it may frighten people, but let us say it is structurally not in keeping with the activity for the people in there." He added that things were made worse by an earth tremor.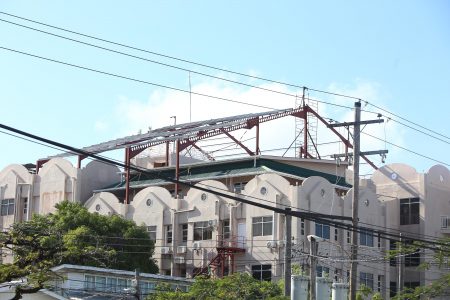 The tremor occurred in July, 2015 following which the building had to be evacuated. There were reports of it swaying and subsequently cracks were observed.
In June of this year Statia had noted that these structural issues mean that the contractor will be forced to construct the roof with material lighter than zinc sheets.
"The building is sinking so we have been told that you have to use minimal weight," Statia explained at the time.
GRA is renting the building from the National Insurance Scheme for $5M a month. In October 2012, GRA began its move into the building but not before a consultancy firm was hired at a cost of $4.5 million to prepare the building for occupancy. Government would later award a contract for a whopping $227.1 million to complete and modify the building so that it could be occupied by the GRA.
Meanwhile Statia also noted that the lease application for a 19-acre plot at Lilliendaal has been filed with the Registrar.
The 50-year lease has been signed with the Guyana Lands and Surveys Commission to allow the construction of a campus for the GRA.  Its execution is presently awaiting a Cabinet decision for the approval of the building.
Around the Web