It would be safe to say that football means the world to 47-year-old N-Zinga Maxwell; she dedicates her time and energy seven days a week to the game, often free of charge.
She is neither coach nor player, but Maxwell's contribution is no less significant as she painstakingly ensures that the gear of the Fruta Conquerors Club is kept intact. She is the manager of the various teams of the club, a task that keeps her on her toes, and one that she has no intention of relinquishing in the near future.
"No, I love football, I am not going anywhere; this is what I love to do. Sometimes it is hard but I love what I do," she told Sunday Stabroek in a recent interview.
Apart from the uniqueness of being a female manager of all male teams, the mother of one also attracts attention with her name and her growing crop of dreadlocks.
"N-Zinga is not my birth name… I changed my name," she said when asked.
As for the dreadlocks they came about because "I did not like to comb my hair…that is how it started and it has been like this for 21 years."
Just how Maxwell got into football, "is a long story," she said. It was concluded later on that she had always loved the game, but by the time she got a foot in, it was too late for her to be a player.
Her first contribution was as a security officer at one of the Kashief & Shangai games at the invitation of a friend, who indicated that the tournament needed a woman security officer.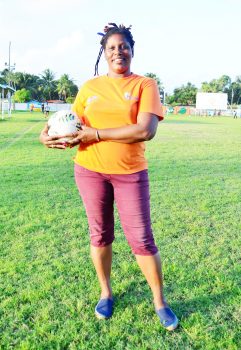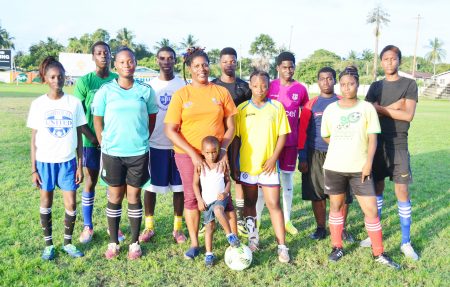 That was in 2011 and it was not until in 2014 that her real break came. Her friend Sampson Gilbert was a coach at the Camptown Football Club, and she visited him from time to time. He later moved to Fruta Conquerors and eventually she became involved in the children's football programme.
She must have been doing something right, because in 2014 the then secretary of the club, Daniel Thomas, asked her to officially become a part of the club by managing the equipment. The following year the club launched its first Stag Beer tournament and its president, Wayne Forde, asked her to be team manager of the club.
"It was big elevation and a great responsibility," Maxwell said.
She believes it was the quality of her work and the commitment she had in what she described as "an ordinary position" that was responsible for her elevation.
Respect yourself
Maxwell said she quickly realized that she had to respect herself and others.
"I took the time learn about the individual players. You know you have to know so that you are equipped to deal with them … The coach would ask you to write certain things and you have to know what the numbers of their jerseys are. This is important because you have to lay out their clothes and sometimes write up the team sheet. You just have to be equipped," she said.
Moving into that phase was not a difficult transition for the new manager since the club members were already accustomed to her being around and "you know they were comfortable with me, they did not have a problem."
She has no issues dealing with only male team members but stressed that she ensures that she is respected and reiterated this is done by respecting the individual players regardless of their age
"Some might not like me but I have had no disrespect…" Maxwell said.
She manages five teams, from the under-11s right up to the adults, and she knows all of the players' names.
"The children would ask me how I know everybody's name; some of them I even know their birthdays… You know I have to travel with them wherever they go."
Her job requires her "always being on the go" as whenever a team is playing she is on call. Maxwell said she has one child who is 28 years old and no grandchildren so she is ideal for the job.
"When they call and say 'N-Zinga move', I move, that is the beauty of it, I enjoy doing it," she said with pride.
Whenever she is giving the teams a pep talk she would often use the words "gear down to gear up" and while some of the younger ones would laugh as it sounds funny, Maxwell explained that whenever they come to football whether it is to practice or for a match they have to take off all they came with and get dressed in football gear. In that same period they also have "to gear up their minds" to do their best.
"I would tell them sometimes too that 'whenever you are looking for a leader, look to Miss N-Zinga' and some of them look and laugh loudly. I laugh loud with them too. But when I give them a task and they cannot complete it, I laugh again and say 'look at me and be a leader I don't want you to be a follower.'"
She never calls players by any false names or aliases, and when it comes to the children she does not allow them to call each other false names. She also ensures that their names are recorded whenever they go to club.
Maxwell is at the club from 5 pm seven days a week and whenever there is a game she is there much earlier.
"I look forward to the afternoon because before then I am bored… Right now my whole life is football; I am enjoying it."
She also takes the players' gear home and washes it.
"If I get a week off, I grieve because I know the chaos when I return; I like order you know."
Since she was appointed manager she has not looked "back at anything" even though she still provides security services for Kashief & Shangai when needed.
"They [Kashief & Shangai] call me up because they know I will be there because I am always on time, they depend on me for the time; if they say 4 pm, I would be there at 3 pm," she said matter-of-factly with not a hint of boastfulness in her voice.
'Did a lot of things'
Speaking about her life before football Maxwell said she started working at the age of 19 and, "I did all kinds of job and many of them I did not like, but I use to work because I had a child. I did a lot of things."
Now a divorcee, Maxwell said it had always been her dream to get married dressed like an African queen and she got her wish. Her former husband, whom she described as "Prince Charming," at that time was a member of the House of Israel. It was while dating him that she changed her name to N-Zinga which means 'beauty and courage' but she prefers the definition that deals with courage.
"I did get married as a queen. I had my head wrap and my African outfit and I felt good even though it was a quiet wedding. It [the marriage] lasted 11 years and it was good…
" I have not remarried but I would  like to because you see when you pass 40 there is no more out there for you—this is my opinion—there is no more out there to be make choices, it is time for you to start talking to someone.
"There is nothing left, you find someone and marry. I don't want a companion I want my husband to be my companion."
Maxwell described herself as someone who likes to care for persons and she has done some homecare in the past. She recalled that at one time she volunteered at the then Network of Guyanese Living with and affected by HIV/AIDS (G+). During her homecare work she accompanied three persons to Cuba to have eye surgeries since their relatives found it difficult to travel with them. She maintains a relationship with one of those individuals, Latchmin Sukdeo and ensures that she calls every year for her birthday.
"I am a very jovial person and people like to have me around. And you know I like to work, girl I like to work and I am always on time for my job.
"I want when I do something God knows, and he give me that reward. I do things out of the kindness of my heart," she said.
Around the Web