Local company R.L. Sukhram and Sons Sawmill, one of the two firms that have secured a lot in the former Barama Company Limited (BCL) concession in the North West region, plans to focus on value-added production and expects to finalise a deal soon with an Asian investor for the development of a plywood and veneer factory.
The Ministry of Natural Resources last Saturday announced that the Guyana Forestry Commission had awarded two lots, totaling over 800,000 hectares of the former BCL concession, to R.L. Sukhram and Sons Sawmill and the Chinese company Rong-An Inc. It said the awards are expected to yield a total investment of US$9.5 million by 2020 and the creation of 524 jobs when the operations are at full scale.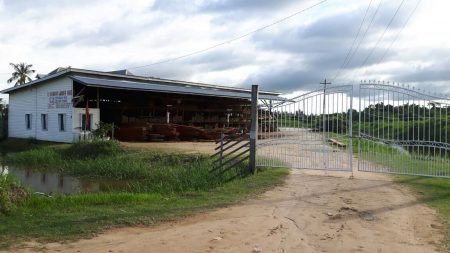 Khemraj Sukhram, a representative of the local sawmill and son of its owner, Ragunauth Sukhram, told Stabroek News that the company became interested in the lot after BCL relinquished its concession in October last year. "We are a major supplier for logs and after we saw they [BCL] were going out and it would've been vacant, we applied. We went ahead and purchased trucks, bulldozers and other equipment," he said, while pointing out that so far the company has spent in excess of $100 million in preparation for the new operation and plans on spending more.
Sukhram noted that the company currently has three full-scale operations at three locations: St. Lawrence, East Bank Essequibo; Versailles, West Bank Demerara; and in the Cuyuni River. In addition to the three locations, he said that the company has also procured land along the Linden-Soesdyke Highway for future expansion when it has operationalised the new concession.
Sukhram said that one of the main reasons the company applied for the parcel was due to its plans to focus heavily on the value-added sector. "His vision is to develop his business through the major value-added products, such as veneer and plywood, furniture, and fabricated housing units, targeting the impressive range of timber species that characterises local forests," he said, while outlining the vision of his father, who has been in the logging business since he was a teenager. He also said that his father is also committed to the development of the forestry sector and the country as a whole.
The junior Sukhram also mentioned that the company is currently negotiating with an Asian investor who is interested in starting a full-scale plywood and veneer factory. He also stressed that the company wants to minimise its exportation of logs and will place more focus on squares.
When questioned about the details of the negotiations with the investor, Sukhram explained that they are currently still only in the talking phase and added that he could not reveal the investor's identity. However, he said that they are going to meet "very soon" to finalise a deal.
Meanwhile, asked about the company's current workforce and projections for growth once its new operations are at full scale, Sukhram said he could not give a current employee count but noted that they use a lot of "temporary" or contract workers as opposed to permanent ones.
He said it has been the company's practice to use contract workers to do the brunt of its work over the years.
As a result of the BCL's withdrawal, hundreds of workers were retrenched. Sukhram noted that when his company starts its operations in the former BCL concession, it will try to reach out to the former Barama staff who were  laid off so that it can tap into their experience. He also mentioned that when it meets with the investor to discuss and finalise an agreement, his company will put heavy focus on local content and ensuring that enough Guyanese receive employment opportunities.
In announcing the award of the lots, the Natural Resources Ministry had also said that the two new operations would see an increase of national production level by at least 189,000 m3 annually, an increase in export revenue by at least US$7 million, and an increase in harvesting of Lesser Used Species from the current 10 to 15 percent to at least 25 percent of total production.
Following Barama's withdrawal after 25 years, Minister of Natural Resources Raphael Trotman announced that the 1.6 million hectares forestry concession had been quartered, with one portion set aside for conservation and another for small loggers interested in pursuing sustainable logging activities.
The remaining two portions—Parcel 1 and Parcel 2—were advertised for State Forest Exploratory Permits (SFEP), which entail a three-year assessment process prior to commercial full scale harvesting.
Parcel 1 is a forest area of size 417,809.23 hectares and Parcel 2 is a forest area of size 432,262.59 hectares. They are located in the Essequibo region (North West, Mazaruni Potaro District) and they are both said to have a high occurrence of a number of high-value commercial timber species, including Baromalli, Greenheart, Purpleheart, Mora, Wallaba, Crabwood and Kabukalli, among others.
According to a statement issued by the ministry, both parcels were opened for Expressions of Interest, which resulted in 10 submissions. These firms were then invited to submit SFEP applications, after which the Technical Sub Committee of the Forestry Commission's Board of Directors concluded that Parcel 1 should be issued to Rong-An Inc., and Parcel 2 to R.L. Sukhram and Sons Sawmill, for a three-year period commencing July, 2017 to July, 2020.
Around the Web