Although the new school term commenced yesterday, the recreational field of Queen's College still remains in a deplorable state, although provisions have been made to restore it.
Alfred Granger, Chairman of the school's board, during a telephone interview with Stabroek News yesterday acknowledged that it was promised that works to the field would be completed before the new school term, but explained that the process has taken longer than expected.
Granger related that the board wrote to a company nearly a month ago to procure its services and machinery for the slashing, ploughing, and the levelling of the field, but said it has not yet received a formal acceptance.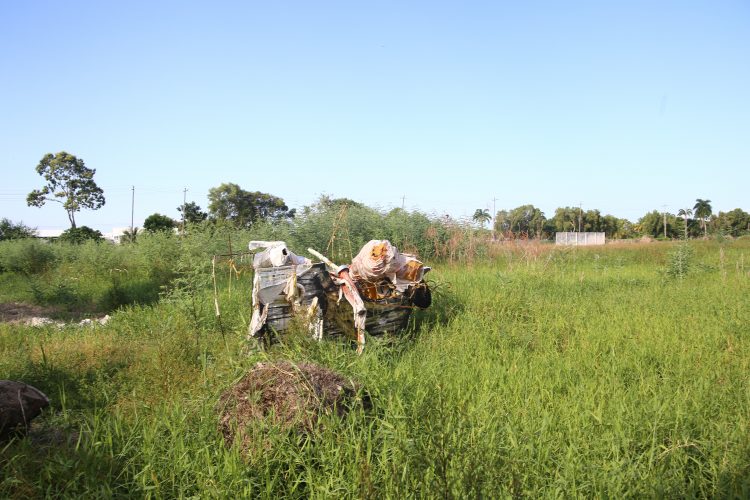 He was confident that they would receive it but stated that he is unsure of when it can be expected. Granger said that the complete restorative works will take about 15 days to complete.
As far as maintenance of the nine-acre field goes, a groundsman has already been hired, and more will likely come on board.
The field's maintenance will be funded by the school's board, with support from members of the Queen's College alumni, namely the group that helped to jumpstart the entire process of restoring the field.
Granger further related that they received a $15 million estimate for the restoration of the pavilion that occupies the ground, and said that more than $4 million has already been made available for its refurbishment thanks to the College's United States chapter. Additionally, Granger related that the rehabilitative works for the pavilion have been budgeted for in the 2018 budget.
Granger stated that once the ground is restored, the plan is to resuscitate sports, such as hockey and netball, and encourage girls' interests in playing sports such as football and cricket.
In April, Stabroek News had documented the poor condition of the field. The field, which facilitates the school's sports and physical education programme, had become a mass of overgrown weeds and builder's waste.
A few weeks later, a group of Queen's College old students took the initiative to rehabilitate the school's recreational field and committed to attend to its maintenance for at least six months following that.
Dr Terrence Blackman, who spearheaded the initiative, had said the group had every intention of restoring the field to its former glory, while stating that they "will not be satisfied" until students are able to use the ground in the same way that it was utilized by their predecessors.
Blackman expressed hope that the group would be able to partner with the school's board, principal and alumni to put things back in place and restore the Queen's College field to its former glory.