A proposal for the establishment of a Mayoral Youth Council in every municipalities was put forward to representatives of the Caribbean Development Bank (CDB) on Thursday, during a roundtable discussion on youth in local governance, organised by youth leaders in Linden.
The event, supported by the Guyana Youth and Student Movement (GYSM), was held at the Linden Town Councils' boardroom, and saw about 50 youths in attendance.
Carwyn Holland, Mayor of Linden, told Stabroek News that the youth groups met with representatives of the CDB and they engaged in a discussion on the role of youth in local government, as well as issues affecting youth within the township, including matters of employment.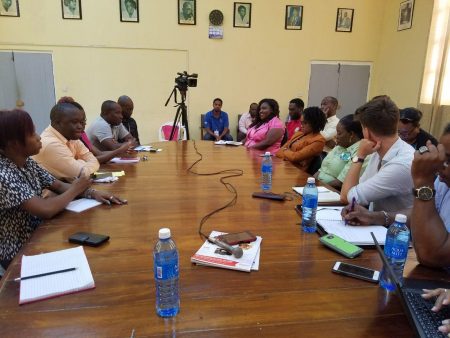 Holland related that the proposal for the council and an accompanying Youth in Governance programme was presented by him, as he noted that youth are often ignored in the decision-making process.
The programme would be undertaken by the recently resuscitated Guyana Association of Municipalities (GAM), of which he is President.
Holland said that the programme would promote building leadership skills and providing civic engagement opportunities for youths "by placing two youth representatives on each of our council's standing committees."
Among the objectives of such a programme, he related, would be allowing youth to become active community partners and leaders and teaching them how to effectively apply leadership skills through experiential learning.
"As I reflect, my very first speech as the mayor, I did say that one of the things that bothered me was the fact that youths were largely ignored in the decision-making in local governance. And a lot of decisions made in the past somewhat did not fully cater for the next generation, it just catered for the immediate. Nothing for down the line," he said.
He added that as a new town council, it was found that decisions made by their predecessors often proved to be "counterproductive" to their agenda, and the mandate they are now seeking to fulfill.
The CDB is being approached to fund the venture, but in the interim, Holland related, a framework for the programme will be drawn up and technical support will be sought from the Ministry of Communities to get the programme initiated.
In addition to that proposal, Holland said that Deputy Mayor Waneka Arindell suggested the development of a youth skills database, which would essentially aid in linking youths to employment opportunities. He explained that youth groups would be tasked with registering the youth within their body, and said that the Council would facilitate the initiative through the setting up of a help desk.
The CDB was represented by economists Damion Reeves and Franzia Edwards.
Around the Web