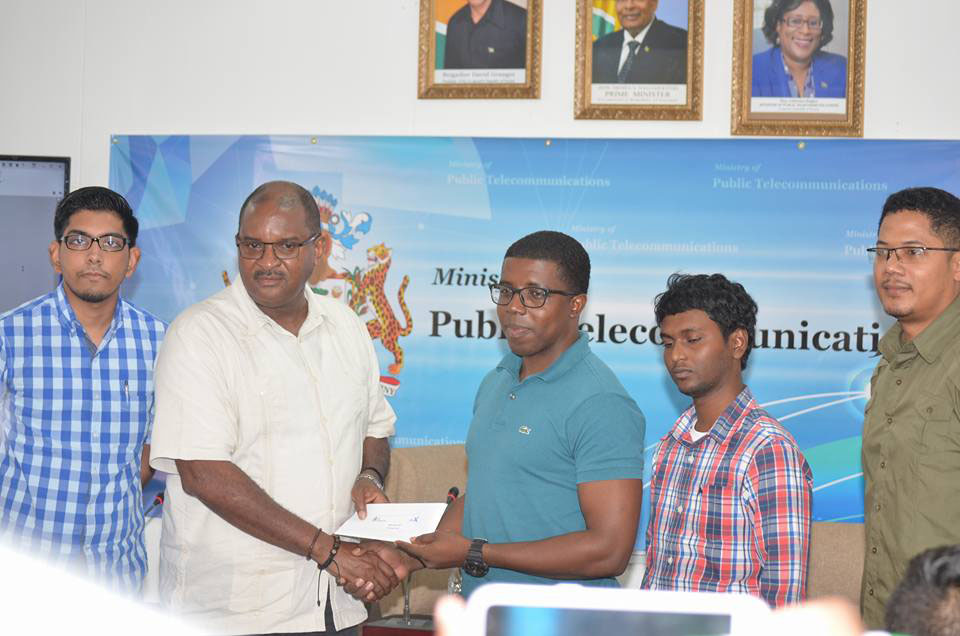 The Ministry of Public Telecommunications (MoPT) will be working along with the winning developer of an app which would allow local farmers to sell their produce in a global online market place.
"While we have the platform there are a lot of hurdles we need to cross before we can make it something that is usable," Julius Simmons, a team member of Innovative Systems Inc., the winner of MoPT's Codesprint 2017, told Stabroek News on Friday.
"We won't be doing this on our own and that is where the ministry comes in … Once it [the app] is marketed, the sky is the limit because there will be no person that cannot access the platform," he added.
It was announced on Friday afternoon, at MoPT's Camp Street office, that the Innovative Systems Inc. team was the winner of the competition, which the ministry had launched in August, requiring a local team to develop an agricultural commodities trading exchange for local farmers.
The winning team won $300,000. Runners-up in the competition were the UB3 Media team, which received $200,000, and IntellectStorm, which secured third place and $150,000 in prize money.
The teams were given three weeks to design the app, which is expected to bring together producers, sellers and buyers of local produce, such as vegetables, fruits and dairy products, all in a single online market place.
Ministerial advisor Lance Hinds informed that the ministry intends to provide the winner with the necessary resources to finish developing the product.
"The end product that will be put to work in Guyana [will] provide an efficient solution to the very real farm-to-market problems that farmers in this country have been enduring since the 1990s," a statement from the ministry said.
"Added to this, is the reality of Guyana's inability to satisfy large orders for most grown in Guyana products. Our manufacturers, growers and processors need assistance to broaden their capacities to produce and deliver produce in large quantities in shorter time frames, with lower production costs, along with the maintenance of active, steady markets," it added.
The 30-year-old Simmons said while making the online platform was hard work for his team, even more effort, teamwork and networking will be needed to make the app functional.
He explained that the three week timeframe given to develop the app did not allow for acceptance testing. As a result, the team did not get the opportunity to go out into the fields and meet farmers who have access to smartphones and computers with internet connections.
"Because of the constraint with time, we only had a few weeks to build the app, so that part of our user accessibility or acceptance testing has not been actually done as yet. After we would have gone through some more refinements with the committee and so on, I think then we will go and do some dry runs with people to see. This would be to improve it more, to see what they need, and cater to their needs," he posited.
Simmons and his two 19-year-old team members, Sonny Kothapally and Deonauth Mohabir, explained the objectives of the app and some of the possible hiccups that will be faced in getting it workable for Guyana's farmers.
"One of the issues we have in our local market is that we don't have courier agencies, such as, FedEx and UPS, for example that can do local deliveries. So we need that for this thing to work, and also a certification body to grade the produce. Those don't exist and they are things we would need to get over, to get it launched," Simmons explained.
"There are a lot of things we need to work out before we can get the platform into production. So having a grading system and working out how logistics would work, in terms of getting the produce to its intended destination, are just some. There is also issues with the payments, because cash payments would only work for local farmers. So if you are buying from overseas then there needs to be a system in place that payments can be verified easily and that has not been done yet. As far as I know, the Bank of Guyana is still working on implementing an electronic payments policy for Guyana, so that hasn't come on stream as yet either," he added.
Around the Web