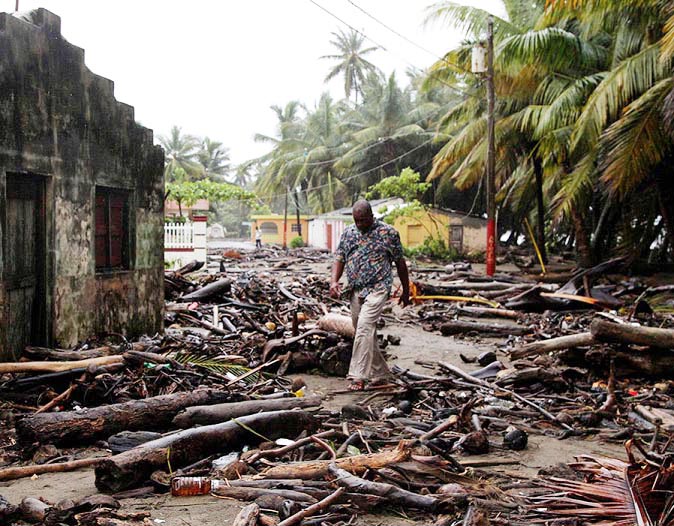 VARADERO, Cuba, (Reuters) – From Cuba to Antigua, Caribbean islanders began counting the cost of Hurricane Irma yesterday after the brutal storm left a trail of death, destruction and chaos that could take the tourist-dependent region years to recover from.
The Category 5 storm, which killed at least 28 people across the region, devastated housing, power supplies and communications, leaving some small islands almost cut off from the world. European nations sent military reinforcements to keep order amid looting while the damage was expected to total billions of dollars.
Ex-pat billionaires and poor islanders alike were forced to take cover as Irma tore roofs off buildings, flipped cars and killed livestock, raging from the Leeward Islands across Puerto Rico and Hispaniola then into Cuba before turning on Florida.
Waves of up to 36 feet (11 meters) smashed businesses along the Cuban capital Havana's sea-side drive yesterday morning. Further east, high winds whipped Varadero, the island's most important tourist resort.
"It's a complete disaster and it will take a great deal of work to get Varadero back on its feet," said Osmel de Armas, 53, an aquatic photographer who works on the beach at the battered resort.
Sea-front hotels were evacuated in Havana and relief workers spent the night rescuing people from homes in the city center as the sea penetrated to historic depths in the flood-prone area.
U.S President Donald Trump issued yesterday a disaster declaration for Puerto Rico, where Irma killed at least 3 people and left hundreds of thousands without electricity. Trump also expanded federal funds available to the U.S. Virgin Islands, which suffered extensive damage to homes and infrastructure.
Further east in the Caribbean, battered islands such as St. Martin and Barbuda were taking stock of the damage as people began emerging from shelters to scenes of devastation.
Dutch Prime Minister Mark Rutte said the death toll on the Dutch part of St. Martin had risen to four from two, and that 70 percent of homes had been damaged or destroyed.
Following reports of looting, the Netherlands said it would increase its military presence to 550 soldiers on the island by today, and Rutte said that to ensure order, security forces were authorized to act with a "firm hand".
Caren McDonald, a school teacher in California whose 83-year-old father, Ed, and stepmother were trapped by Irma on the Dutch side of St. Martin, described the chaos they suffered.
"They were scavenging around the island for food, for supplies, for water," she said, explaining how her father and others sheltered in a laundry room during the storm.
"After the hurricane, when they went out, their entire balcony was gone, all the windows were shattered, furniture was strewn all over the place. It just looked like a bomb went off," she said. "And it was just like that all over the place."
Ed McDonald and his wife were eventually airlifted to Puerto Rico by a Dutch military plane on Saturday and are currently en route to the east coast of the United States, McDonald said.
Dutch authorities are evacuating other tourists and injured people to Curacao, where Dutch King Willem-Alexander and Interior Minister Ronald Plasterk were expected to arrive yesterday.
France, which oversees neighbouring Saint Barthelemy and other half of St Martin, said the police presence on the two islands had been boosted to close to 500.
The French interior ministry said 11 people suspected of "malicious actions" had been arrested since Friday as television footage showed scenes of chaos on the islands with streets under water, boats and cars tossed into piles and torn rooftops.
Irma killed at least 10 people on the two islands, the French government said. France's Caisse Centrale de Reassurance, a state-owned reinsurance group, estimated the cost of Irma at some 1.2 billions euros ($1.44 billion).
French President Emmanuel Macron was due to visit St. Martin tomorrow.
Barbuda, home to some 1,800 inhabitants, faces a reconstruction bill that could total hundreds of millions of dollars, state officials say, after Irma steamrolled the island.
The prime minister of Antigua and Barbuda, Gaston Browne, said Irma had wreaked "absolute devastation" on Barbuda, which he described as "barely habitable" after 90 percent of cars and buildings had been damaged.
The government ordered a total evacuation when a second hurricane, Jose, emerged, but a handful of people refused to leave their homes, including "a gentleman (who) said he was living in a cave", said Garfield Burford, director of news at government-owned broadcaster ABS TV and Radio in Antigua and Barbuda.
Irma also plunged the British Virgin Islands, an offshore business and legal center, into turmoil.
Yachts were pilled on top of each other in harbour and many houses in the hillside capital of Road Town on the main island of Tortola were badly damaged. Both there and in Anguilla to the east, residents complained help from the British government was too slow in coming, prompting a defensive response from London.
"We weren't late," Defence Minister Michael Fallon told BBC television yesterday, saying Britain had "pre-positioned" an aid ship for the Caribbean hurricane season and that his government's response "has been as good as anybody else's."
British billionaire entrepreneur Richard Branson, who sought refuge in the wine cellar of his home on Necker island, called Irma the "storm of the century" on Twitter and urged people to make donations to help rebuild the region.
Around the Web