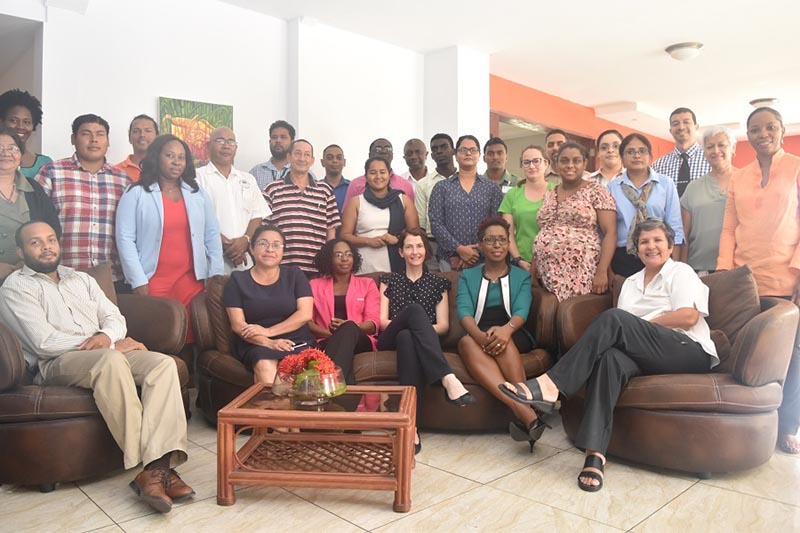 The Office of Climate Change (OCC) on Tuesday opened a three-day workshop at the Herdmanston Lodge, which will focus on building the capacity of community leaders and private and public sector stakeholders to tap  the international Green Climate Fund (GCF)
A release from the Ministry of the Presidency on Tuesday noted that the Green Climate Fund was set up in 2010 at the 16th Conference of Parties in Cancun, Mexico and is now the world's largest dedicated climate fund.
As of March 2017, the GCF has raised the equivalent of US$10.3 billion in pledges.
Head of the OCC, Janelle Christian, in her remarks, said that for Guyana, the Ministry of the Presidency has been appointed to act as the GCF's National Designated Authority (NDA). The release said that the NDA plays a vital role in facilitating, supporting and creating an enabling environment for GCF processes within the country.
She added that various barriers currently hinder Guyana's NDA at effectively undertaking its responsibilities, including low levels of awareness and understanding among NDA personnel of the GCF operational policies and their respective roles and responsibilities.
"It is against this background that the Government of Guyana and the Caribbean Community Climate Change Centre (CCCCC) has received funding from the GCF and has commissioned to implement the project 'GCF Readiness Preparation Support Project for the Enhancement of Guyana's capacity to access and deliver international climate finance through targeted institutional strengthening'", she said.
Christian said, according to the release, that the GCF will specifically support countries to implement their programmes as articulated in the National Determined Contributions, the National Adaptation Plans, the Technology Needs Assessment and all National Strategies and Plans that would have been elaborated by those countries for addressing their climate resilience.
"Guyana started the engagement with the Green Climate Fund back in 2015 and we have been working since then with the CCCCC, which is a regional accredited entity to the GCF… It has a role to implement the 'no objection' procedure on funding proposals submitted to the Fund to ensure consistency of funding proposals with national climate plans and priorities and provide leadership on the deployment of readiness," she said.
The workshop comprises participants from the National Toshaos Council (NTC), the Guyana Forestry Commission, the Guyanese Organisation of Indigenous Peoples, the Guyana Lands and Surveys Commission, the Project Management Office, the Private Sector Commission (PSC), the Guyana Geology and Mines Commission, among other agencies and organisations.
Senior Economic and Financial Analyst at the Ministry of Finance, Dr. Valas Gobin, in an invited comment, said that he will be using his training and knowledge gained in his department to coordinate with other agencies to guide them in the direction where they would be able to get a better understanding of accessing funds for the GCF.
Around the Web