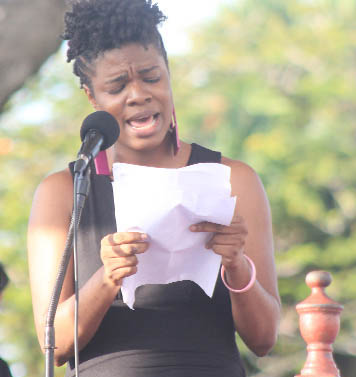 President David Granger has distanced himself and his government from comments allegedly made by his Public Information and Press Services Officer Lloyda Nicholas-Garrett.
Speaking with reporters at the 32nd anniversary of the President's College, Granger said that he had "examined the information that was presented to [him] and discussed it with members of staff of that section."
The head of State noted that "it is not policy of the Ministry of Presidency and certainly not [his] policy to engage in that type of language."
He also said that it was his belief that the comments being shared on social media were not something that represented Nicholas-Garrett's "personal philosophy."
He reiterated a promise made by Head of the Press and Publicity Unit of the Ministry of the Presidency (MOTP), Mark Archer to have an investigation into the matter and explained that once completed its results would be made public.  Asked if Nicholas-Garrett will accompanying his delegation to the United Nations General Assembly, Granger responded "that's enough on that matter."
Opposition Member of Parliament Nigel Dharamlall on Tuesday shared on his Facebook page screenshots of the alleged conversations, one in which Nicholas-Garrett allegedly used a racially derogatory term to describe staff at the Ministry of the Presidency.
Since Tuesday Stabroek News has reached out to Nicholas-Garrett for comment on the issue but failed to make contact. Her personal cellphone has been turned off and her Facebook page deactivated. Additionally Nicholas-Garrett who normally accompanies the President everywhere reportedly did not show up to work on Wednesday and was absent from Granger's side yesterday.
Dharamlall, who himself has in recent months made several public statements which were derogatory and racist in tone, accused Nicholas-Garrett  of using "highly racial and very derogatory terms in conversations with her friends as they describe their fellow Office of the President colleagues," whom he believes are Guyanese of Indian descent.
He called for her to be sacked and for her to undergo a "period of race relations rehabilitation".
Around the Web