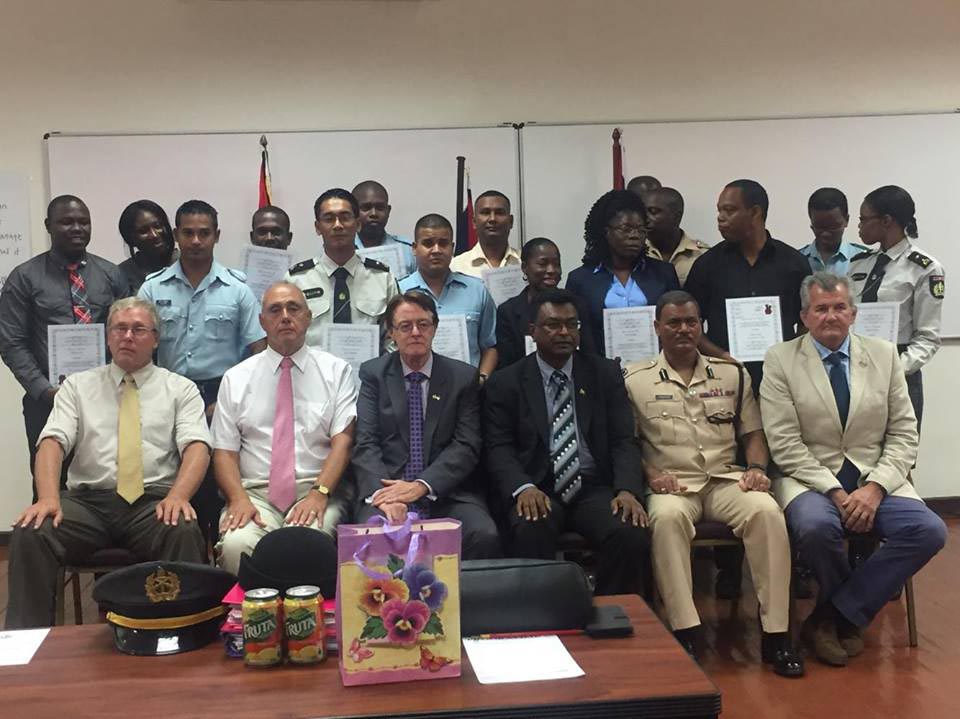 Thirteen members of the Guyana Police Force and two members of the Surinamese Police Corps yesterday completed a two week capacity building training course in the area of strategic planning, sponsored by the United Kingdom (UK).
Speaking at the closing ceremony held yesterday afternoon at the Police Officers Training Centre, Eve Leary, Acting British High Commissioner, Ron Rimmer during his brief remarks said the course was designed to improve the capacity, capability and operational efficiency of the strategic planning unit of the Guyana Police Force, and to help provide the youths with some of the skills and expertise they will need as they seek to implement any recommendations to reform policing in Guyana.
Rimmer said the UK is keen on helping Guyana to ensure concrete tangible actions are taken during and following the ongoing UK sponsored security sector reform.
He noted that the training course is a part of a planned series of activities which they are looking to fund and conduct over the next few months. He added that it also demonstrates the ongoing commitment of the UK to improve the security sector in Guyana and support the efforts to provide a safe and secure environment for its citizens.
The aim of the training course which commenced on September 4 was to build the competence, capacity and confidence of the strategic planning unit to support and sustain the development of the strategic plan of the Guyana Police Force.
Over the two week period, the officers were exposed to areas such as modernization, succession planning, modern day policing strategies and techniques, conducting research, preparing action plans, and monitoring and evaluation.
The training is a direct recommendation emanating from the Security Sector Reform Programme (SSRP) interim report submitted by Presidential Adviser on Security, Russell Combe.
Head of Strategic Planning Unit, Senior Superintendent Royston Andries-Junor during the welcome and introductory remarks said the course participants comprised of both junior and senior ranks, along with two members of the Surinamese Police Corps.
Andries- Junor said the training course was an experience which indicated to him that as the Guyana Police Force moves forward, it should be taken into consideration that the best solutions not only lie at the top but can also be contributed from members all across the force.
"At the end we are now confident that the Strategic Planning units in Guyana and Suriname are now in a better position to execute our mandate of performance evaluation and coordination of the modernization programmes", he said.
At the conclusion of the closing ceremony, the participants were each awarded certificates. Tokens of appreciation were presented to the facilitators and trainers.
Around the Web