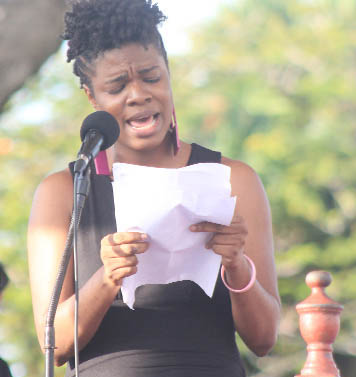 One week after promising to investigate the alleged use of a racial slur by Public Information and Press Services Officer (PSO) Lloyda Nicholas-Garrett, the Ministry of the Presidency (MoTP) is silent on its progress.
Stabroek News reached out to Head of the Press and Publicity Unit of the Ministry of the Presidency (MOTP), Mark Archer asking for an update on the investigation but received no response to queries.
Nicholas-Garrett has made no known public comment on the allegation.
Meanwhile, former Chairman of the Ethnic Relations Commission Juan Edghill is expressing his disappointment in the alleged conduct of Nicholas-Garret.
Edghill, now a PPP/C MP,  explained to Stabroek News that for years Nicholas- Garrett worked as team leader for a UNDP- funded Film Festival within the ERC framework.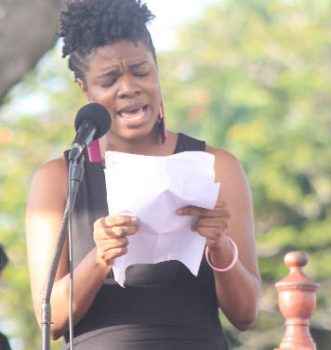 A 2010 Stabroek News report described the film festival as being aimed at teaching youths to practice tolerance and respect across the races and to engage them on how to foster racial unity.
Edghill stressed that the officer would've received training from the UNDP in social cohesion and ethnic relations.
"I'm disappointed that we have that [comments] taking place in Guyana more so at MoTP where we should have more than tolerance; we should have respect," Edghill said.
The PSO has been accused of uttering a racial slur. Opposition Member of Parliament Nigel Dharamlall last week shared on his Facebook page screenshots of a private Facebook conversation between the officer and friends. In one of the screenshots Nicholas-Garrett allegedly used a racially derogatory term to describe staff at the Ministry of the Presidency.
As a result, and investigation was launched and Archer and President David Granger were quick to distance the Ministry from the comments.
Speaking with reporters at the 32nd anniversary of President's College last week, Granger said that he had "examined the information that was presented to [him] and discussed it with members of staff of that section."
The Head of State noted that "it is not policy of the Ministry of Presidency and certainly not [his] policy to engage in that type of language."
He also said that it was his belief that the comments being shared on social media were not something that represented Nicholas-Garrett's "personal philosophy."
Stabroek News has reached out to Nicholas-Garrett for comment on the issue but failed to make contact. Her personal cellphone has been turned off and her Facebook page deactivated. Additionally Nicholas-Garrett who normally accompanies the President everywhere reportedly did not show up to work on Wednesday and was absent from Granger's side last week. She, however, accompanied him to the 72nd Regular Session of the United Nations General Assembly in New York now underway.
Dharamlall, who himself has in recent months made several public statements which were derogatory and racist in tone, accused Nicholas-Garrett  of using "highly racial and very derogatory terms in conversations with her friends as they describe their fellow Office of the President colleagues," whom he believes are Guyanese of Indian descent.
He called for her to be sacked and for her to undergo a "period of race relations rehabilitation".
Around the Web