After residents of Victoria, East Coast Demerara, turned out on Wednesday in their numbers to protest the state of their main access road, the Ministry of Public Infrastructure has started remedial works.
According Elroy Skeete, the Vice-Chairman, of the Haslington/Golden Grove Neighbourhood Democratic Council (NDC), the ministry has since agreed to do rehabilitative works on the road until it is able to budget to do the entire road next year.
While the works are not to the extent which the residents were calling for, Skeete said that they were satisfied that attention was brought to the issue quickly and that the government was going to bring some relief to them.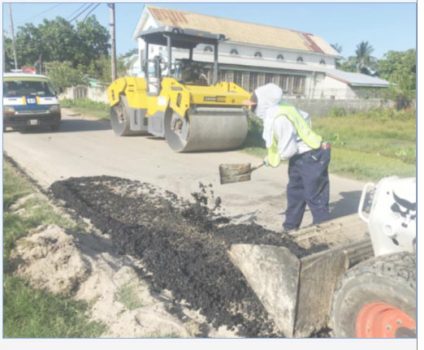 "We notice that they are trying their utmost and we have to appreciate that. At least they didn't hear about our plight and leave it to be," Skeete told Stabroek News yesterday.
Other residents also said they were happy with the response of the ministry and even though they were not getting the works they requested, they were satisfied. "At least now we can drive on the road properly and we don't have to deal with the ups and downs like we does got to every day. We just want a normal road like everywhere else so we don't have to worry about our vehicles or worry about people refusing to come in here," a resident said.
The road is littered with large potholes, with some spanning the entire width.
When Stabroek News visited the community yesterday, workers from the ministry were seen patching holes and laying asphalt.
In addition to patching the roads, Skeete and other residents also pointed out that they were requesting that the ministry extend the approximately mile-long road.
Skeete explained that where the asphalt ends, there is a mud road that persons have to trek through to access their homes. "They have people living beyond the road and they have to use the mud dam so we want that to fix… and because we want to move the burial ground to the back. They have nuff space at the back there and right now I don't even think they have space for me at the current burial ground," he said.
Prior to the repair works that started yesterday, Skeete had told this publication that since the road's construction in the 1980s, the NDC and residents have been working together to address the "primitive" road.
"Last year, we patched the road for the 50th [independence] anniversary and for Emancipation Day. It was surprising to see the condition of the road again. The NDC cannot afford to patch all these roads all the time," he had said, while pointing out that the residents and the NDC are of the opinion that the road is "beyond patchwork" and needs to be completely rebuilt since there are noticeable structural faults.
Around the Web