Polio survivor Pamela London is now in urgent need of assistance after her abode collapsed a few weeks ago, destroying the little she had and forcing her to now occupy a makeshift structure which is unsafe.
London who is confined to a wheelchair has no access to running water, electricity or toilet facilities and when it rains she gets wet as the roofing on the structure has countless holes.
Her house which is located at Coldingen, East Coast Demerara was built by Food for the Poor about 11 years ago and in recent times became infested with wood ants. The wooden stilts it was built on began to rot given the waterlogged conditions.
When Stabroek News visited, the house was no longer where it once stood but was shifted to the side of the yard. After the structure collapsed, London's son who resides with her and some of his friends converted a part of the house into a make shift shelter for her. Her son cannot be accommodated there as the makeshift structure is very small. The other part of the house is nearby with almost all of the wood from the walls and the floor missing. Other parts of the yard were littered with pieces of clothing, wood and broken furniture and household appliances.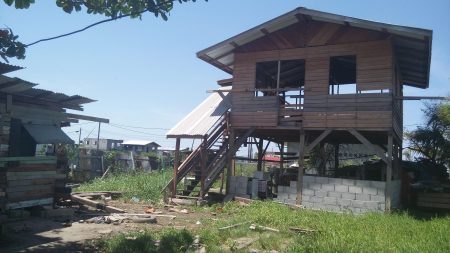 London explained that about four weeks ago she heard a strange sound and told her son. He however dismissed her concerns. That night during heavy breeze and rain she said that she heard "like if de place cracking and I call he and I telling he that the place cracking and he seh 'mammy you pressure must be deh up mek you goin on suh'". London said that the next morning they found that the structure was leaning. "He tek a piece ah wood and prop it and when he gone to wuk I ask them boys (neighbours) to tek me out of de house and as soon as I come out it lean mo", she said.
According to London, shortly after, the structure collapsed and a part was left "flat on the ground". With some assistance from friends she said they were able to move the flattened structure to the side of the yard.
London said that what she currently occupies is not ideal. "When the rain fall I ain't got to go nowhere to bathe. I bathing pon top the bed", she said in trying to explain how badly the roof was leaking. The makeshift structure is divided into two parts – a bedroom and a kitchen.  The woman expressed concerns for her safety, saying that the makeshift structure is not secure. Only three sides of the yard have fencing.  She said that she has no access to a toilet.  According to London, the pit latrine is full and a new one has to be dug. Because she is unable to walk she has to get assistance in disposing of her waste. She said that to cook, she has to get help in bringing a table to a bench which was built near the doorway. She would then put her kero stove on it and do her cooking.
She also has no access to running water. London explained that the tank in the yard is filled through a hose through the neighbour's yard. She said that before her son leaves he has to full up bottles and whatever other containers he could find and put it in the makeshift structure. To bathe, she said she has to do so on a landing area just outside the door of the makeshift structure.
London does not have a proper bed. She sleeps on a makeshift bedframe made with pieces of wood.
Prior to the house collapsing, London had informed that her son was making attempts to construct a house at the back of the yard. The intention was to build a two-storey structure – he would occupy the top and she would live in the bottom flat. London during the recent interview reiterated that her son earns a meagre salary and is trying hard to build the structure so that he could improve their living condition.
London informed that because the makeshift structure is small, her son sleeps in the bottom flat of the house he is building. That flat is not secure as it is open. She said that he sleeps on a mattress. He cannot occupy the top because that too is not secure and when it rains he would get soaked.
Secretary of the General Contractors Association, Neil Cort Rogers who accompanied this newspaper said that after inspecting the structure he would suggest that efforts be concentrated on completing the bottom flat.
Rogers stated that he would make certain recommendations and would look to see how the Association can assist.
London's only access to money is the $7,300 in public assistance she receives every month. Of that amount, $5000 is spent in paying taxis to attend clinic in Georgetown. If the clinic days are close, she would seek lodging at Red Thread on Hadfield Street.
So far an overseas-based Guyanese has sent London a new wheelchair as well as some medication for her high blood pressure.
Anyone willing to assist London with building materials or in other way can contact her on 667-9355 or at Red Thread on 227-7010.