Amid reports of the dire conditions on hurricane-ravaged Dominica,  Chairman of CARICOM Dr Keith Mitchell yesterday called for a revamped regional response to disasters.
Speaking at a press conference in Roseau hosted by the Dominican Prime Minister Roosevelt Skerrit,  Mitchell, the Prime Minister of Grenada said, "The question of what happens after a disaster, we must rethink, in my view, the whole process. How do we integrate the efforts of the private sector or our financial institutions, government and all institutions in a post-disaster event? I still believe that we are literally doing guess work with not sufficient integration in the process. I believe this whole thing tells us there must be deeper planning," Mitchell said.
Mitchell, whose Grenada had suffered severe hurricane devastation from Ivan in 2004, said "A lot of the things maybe Dominica is going through today probably should not have to go through. There should almost be a system that takes off automatically so I am convinced that we have to do more than we have done," he further stated.
Addressing the CARICOM Secretary General, Irwin laRocque who was also present at the press conference, Mitchell said that this was an issue that the CARICOM Heads would have to address when they meet next.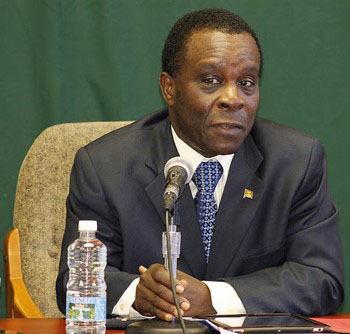 According to CMC, Dominica's police chief on Monday said that the death toll following the passage of Hurricane Maria on September 21 has now risen to 27.
Police Chief Daniel Carbon, who made the disclosure during a press conference said 18 people have also been confirmed missing.
Concerning security, he noted that the police have been kept busy with the latest incident being a prison break that took place late Sunday in which four people escaped. However, he said two were captured shortly afterwards by members of the police force.
Carbon added that another challenge is that of "massive looting" in the capital and other sections of the island.
Mitchell related yesterday that in their assessments of the hurricane-ruined islands, one thing that stood out is that in areas where most buildings were completely levelled, there would be one or two left standing.
"What does that tell us? In fact, I think it was Turks and Caicos told us about an area where because of previous hurricane, all the houses were built back at a certain standard. The hurricane passed there again, all the buildings that were not built back after that hurricane were flattened and the ones that were built back stood up. That tells us the whole question of a building code. A regional building code," he asserted, emphasizing that it is not a question of what is to be done "if" such situations arise, but "when".
On Monday, Antigua and Barbuda's Ambassador to CARICOM, Dr Clarence Henry, said according to the Barbados Nation, that CARICOM must equip itself to lead the charge in responding to the plight of countries within the grouping when national disasters strike, rather than waiting for the international response.
He said at a press conference in Barbados that CARICOM, the individual sovereign states and all the institutions of CARICOM "must fashion a new discussion and a new methodology to deal with the challenges posed by disasters".
Obliterated
An obliterated healthcare and education system, extensively damaged infrastructure, and the threat of food insecurity is the stark reality for Dominica in the wake of Hurricane Maria, according to a regional official who spoke at a separate press conference in St Lucia yesterday.
A picture of what now remains was painted for media personnel during a press briefing at the Organization of Eastern Caribbean States (OECS) headquarters in St Lucia, where Patrick Antoine, Commissioner of Grenada to the OECS, addressed the media in sombre tones, while relating his experience on the ground in the now devastated island state.
Antoine had been a part of an evaluation assessment team in Dominica.
"…as I saw the condition of virtually every single part of Dominica, words cannot describe…there are no adjectives yet created to describe the level of shock and horror that I felt. There are various descriptions given by many—'as though a bomb has dropped'. The one that comes closest is the sort of movie descriptions of the apocalypse. That is the one that comes closest," Antoine said.
He credited the Venezuelans, who were among the first responders in Dominica, and whom he accompanied in several search and rescue operations on the first day after the devastation.
Relating his experience, the Ambassador recalled an island where houses, bridges and roadways have "disappeared", equipment in the hospitals and health centres have been significantly damaged, schools significantly damaged, and crops have been completely destroyed.
"…there are communities for which every single house, house after house, have either disappeared—I did say disappear—leaving the spot. There are houses that have been broken, there are houses that have been shifted off their foundations, there are houses that even though the roofs are on, structurally they've been damaged. I've said to the Director General and his team that I understand roofing and I understand the importance of the hurricane clips, but it's the first time I've seen where hurricane clips properly applied have actually led to the roof and everything to which it was affixed—including side walls—totally lifted off," the Ambassador related.
"…I was in the south of the island, which has been totally cut off in a way that it is not going to be possible to resume any semblance of vehicular traffic anytime soon. Not just cut off in terms of a roadblock or landslide, but we're talking about chunks of roads that has just disappeared into the sea. I have pictures of where roads used to be that are now deep gorges—I mean that really struck me. Bridges that have disappeared—the bridge to the Catholic Church, the bridge to the health centre, bridges to farms. They've all gone. It's really a heart-wrenching scene to look at, having regard to the fact that Dominica had made so much infrastructural progress in the last several years," Antoine stated.
Agriculture too, has been significantly affected, he said, opining that Dominica, for the foreseeable future, will be facing a "level of food insecurity that it hasn't known before".
"Agriculture in Dominica as we know it now ceases to exist. I'm not talking about bananas…let us begin by talking about trees and the horticultural aspects of the ecosystem as we know it to be in Dominica, the nature island…Most of those have been destroyed. There are palms for instance, imperial palms that would have donned the interior and the coastal areas in Dominica that would have withstood Hurricane David. And before that, several other natural disasters…they are gone. Uprooted, broken in many instances."
"…Mango trees—all of it gone. We're talking about breadfruit trees. All of the perennials we call them. Limes as we know it. The coconut trees that we were just beginning to build—Dominica that is—a new industry around because of the global demand for coconuts; that's gone, sadly…the hurricane left nothing untouched. The root crops have been covered by alluvial material—stones and sand in a way that makes it indistinguishable. All of those things are now gone and so agriculture both in the ground and on trees now ceases to exist."
Antoine made a call for countries to rally around Dominica, and support the rebuilding of their agricultural sector.
He spoke too on the impact of the elderly, of which he noted Dominica has a large population of. He related that while he was on the ground, they mobilized the community to note the prescriptions for those elderly persons. The OECS is now organizing a shipment from their pharmaceutical procurement programme to service the elderly population. Medication will also be supplied for young children.
In terms of education, the Director General of the OECS Commission Dr. Didacus Jules said that the entity's Education Development Unit has been working with ministries of education across the OECS to brainstorm how students can be accommodated.
"It's very important that even with the devastation that Dominica has experienced that we make every effort to get the school system back up and running as soon as possible. So the emphasis first in the OECS is going to be on those students who are facing terminal exams; students preparing for CSCE, for Cape, pre-university students, community college students, to get that grouping out so that their education at this critical stage is uninterrupted," Jules stated.
For the students that will remain, they are working with the Global Education Fund and other education ministries to explore ways to rehabilitate the sector.
Antoine had stated during the OECS' press brief that following the damage that was done to the British Virgin Islands and Barbuda by Hurricane Irma, himself and the Director General of the OECS had met, and discussed convening as soon as possible to discuss the way forward. Included on their agenda, was the issue of building codes, he said, but noted that at the time they had not foreseen that the region would be affected again so soon.
Pointing out that they are still in relief mode following Hurricane Maria, Antoine stated that those discussions should resume within the next two weeks.
The Ambassador had advised that there needs to be collaboration at the levels of the OECS community, CARICOM and the global community, stating that those bodies will need to provide functional support as well as special projects and programmes for Dominica over the next several years.
"The community has to come together on at least three levels: this is the OECS community, the CARICOM community and the global community. But there is no greater message than Dominicans, wherever they are, setting aside whatever differences may have existed before the hurricane and coming together to confront this challenge as a united front, as one people," Antoine said.
Around the Web