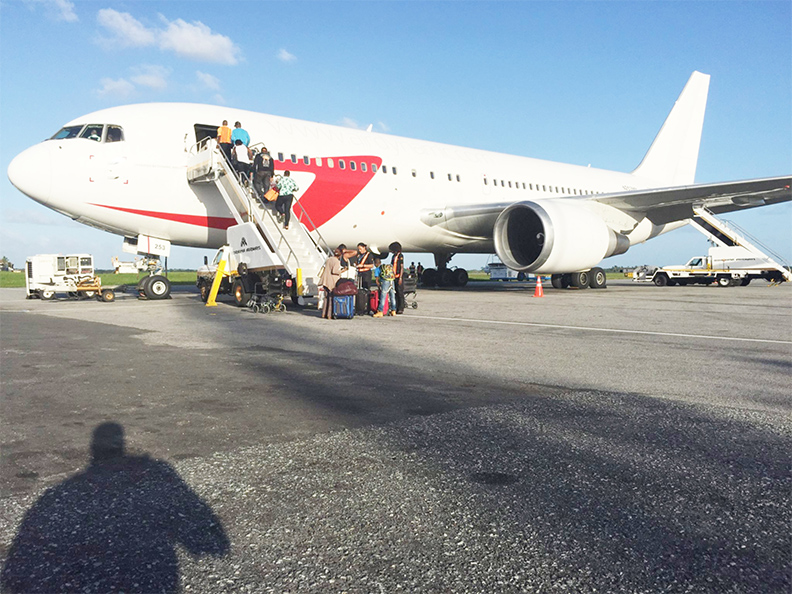 Dynamic Airways is likely to be leaving the shores of Guyana in the coming days as plans are afoot to change its focus to an Aircraft, Crew, Maintenance and Insurance (ACMI) operation.
Stabroek News understands that Dynamic which pulled out of the local market once before in 2014, has listed all tickets for flights after October 2 as sold out. Several travel agencies which would usually take bookings for Dynamic Airways have stopped selling tickets, even as they await official word from the airline.
In addition to this, Stabroek News understands that the Guyana Civil Aviation Authority (GCAA) is yet to receive any formal word from the company on what their plans are.
Meanwhile, local representative for Dynamic, Captain Gerry Gouveia has stated that he is awaiting word from the US-based airline company on the decision that was made and the way forward for the company.
Last Saturday, Ch-aviation, a Switzerland aviation news site reported that Dynamic International Airways (2D, Greensboro) has submitted a progress report in its Chapter 11 bankruptcy proceedings, in which it outlines its plans to trim back Guyana flights and change its focus to an ACMI model.
According to the news site, the North Carolina, US-based carrier entered Chapter 11 protection in July 2017, and has been cutting back services and staff ever since.
"It suspended its Asian operations in August, after an engine problem precipitated an early  end to the season. Following permitting problems in Ecuador, Dynamic recently cut flights to Guayaquil. Its last remaining scheduled service is New York JFK – Georgetown Cheddi Jagan, which it plans to consolidate from 5x weekly flights down to 1x weekly flight by October 7. After that, Dynamic may consider cutting the route altogether," Ch- aviation said.
In pursuing its new ACMI and charter strategy, Dynamic has secured a contract with Swift Travel Services to operate a regular service between Port au Prince and Santiago, Chile until end-March 2018.
The news site further noted that a second contract, which is not yet finalized, will see Dynamic flying from Miami International to Havana International seven times a week and Miami to Santa Clara de Cuba six times a week for the duration of the final quarter of 2017. The two contracts will utilize four of Dynamic's five aircraft.
Dynamic Airways filed for bankruptcy in July 2017. Prior to that, the airline had been fined US$120,000 ($25m) by the United States Department of Transportation (DoT) for failure to provide prompt refunds to passengers after flight cancellations, and failure to promptly notify passengers of the cancellations.
Documents seen by this newspaper reveal that the airline was served with a consent order from the DoT, which also states that the Dynamic's failure to promptly notify passengers of flight cancellations violates the cease and desist provision made in March 2016.
Further, the order directed Dynamic to cease and desist from future violations of the aforementioned regulations and statutes and Order, and assessed the carrier a compromise civil penalty of US$120,000.
"Based on a significant increase of consumer
complaints filed with the Department's Aviation Consumer Protection Division against Dynamic in 2016, the Department's Office of Aviation Enforcement and Proceedings (Enforcement Office) conducted an investigation of these complaints and found that in many instances, Dynamic failed to provide refunds in a timely manner to passengers affected by cancelled flights, as is required," the order stated.
It was further noted that in numerous cases, consumers had to wait for months to receive a refund. Similarly, the Enforcement Office also found that in several cases, Dynamic violated section 380.12(b) by failing to provide written notice to passengers after cancellations more than ten days out of their return flights.
As a result, some passengers arrived at airports and were forced to purchase separate tickets from other airlines at the last minute.
As a certificated carrier, Dynamic is required to comply with the Department's reporting requirements.
"During 2016, Dynamic consistently failed to file in a timely manner applicable monthly and quarterly financial reports with the Department's Bureau of Transportation Statistics as required by Sections 23-25 of Part 241," the order stated.
Around the Web