Inspectors of the Guyana National Bureau of Standards (GNBS) have seized and removed more than fifty dial scales from  the Stabroek and Bourda markets which were not approved for commercial trade.
These domestic dial scales, which were not designed for the rigours of commercial usage, easily become inaccurate and result in vendors selling short-weighted goods to consumers, a release from the GNBS said yesterday.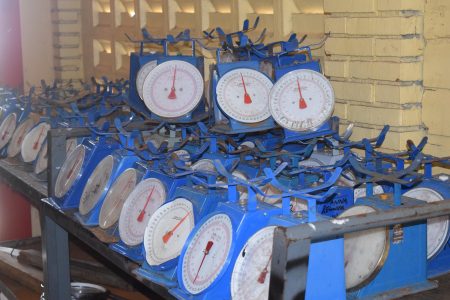 The GNBS says it has been over the years encouraging vendors and shopkeepers to use only the recommended metric devices which include the metric red equal arm scales and masses, metric platform scales, approved dial scales and electronic scales.
The GNBS is cautioning vendors and shopkeepers to desist from using unapproved and unverified devices in the conduct of commercial trade as this could result in prosecution.
So far for this year, more than 500 unapproved scales have been seized and removed from markets and other retail outlets countrywide by Inspectors of the GNBS.
Around the Web