A video editor attached to the Evening News is hoping to be compensated by the Demerara Harbour Bridge Company (DHBC) for damage caused to his motorcycle during Tuesday's collapse of the connecting posts on the bridge.
Aggrey Halley told Stabroek News on Wednesday evening that he has since met with the General Manager of the DHBC Rawlston Adams who has instructed his engineers to conduct an assessment of the damage to the motorcycle. Another meeting between the two parties is scheduled to discuss the way forward.
Recounting the events of Tuesday, Halley said he was returning to the city after dropping his wife and child home, when a connecting post on the bridge collapsed, causing him to lose control of his motorcycle.    "I was proceeding to town, when a truck which was heading in the opposite direction passed over one of the plates on the bridge, and like the weight from the truck lifted the plate up about two feet which caused me to pitch from my bike," he shared.  "Me and the bike start rolling and end up rolling straight into this Canter…people told me that a little bit more and I could have fly off the bridge," he added.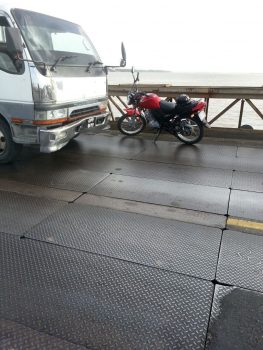 The video editor, who  suffered scrapes and bruises, along with a sprained ankle as a result of the accident, said it took at least 10 minutes for the Harbour Bridge security to arrive on the scene, as the huts along the bridge were empty.
Halley further explained that he had purchased the motorcycle less than three months ago, and it is his family's only mode of transportation at the moment. The damage to the motorcycle has now put his family at a disadvantage since they live in a remote section of Schoonord Housing Scheme on the West Bank of Demerara and they are now forced to utilize taxis to commute.
Around the Web