With funding through the Amerindian Development Fund (ADF), Dog Point, in the Cuyuni-Mazaruni, has acquired two boats to be used as income generators for community development.
The boats were officially handed over on Sunday during the village's Heritage month celebration.
Resident and member of the project management team Carlotta John Hopkinson explained that after much consultation with those in the community, it was agreed that the procurement of the boats was best suited for the community development project. The first grant agreement was subsequently signed in 2016, giving the community the sum of $5 million dollars in funding for the project.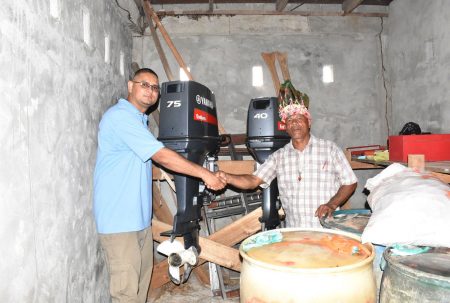 One boat is equipped with a 40 Horsepower engine and the other with a 75 Horsepower engine. Hopkinson said one will be rented to loggers from the community to transport lumber from the community-owned mining concessions in the Essequibo River, while the other will be used as commercial passenger boat for persons traveling within the immediate environs.
"It is very helpful for us; they will benefit every individual in the community as the business starts to progress financially since it will cut the cost of transportation for residents going up and coming down. Also, you can gain money by using passenger boat [for] transportation within the community," she shared.
Around the Web