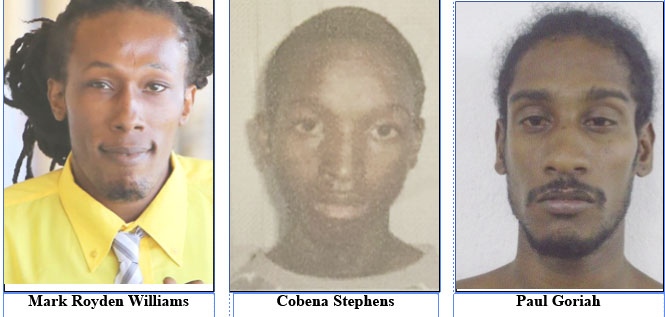 The community of Linden remains a focal point for the Joint Services as they continue to work to recapture prison escapees Mark Royden Williams, Cobena Stephens and Paul Goriah, according to acting Commissioner of Police David Ramnarine.
"There is a bigger focus that's going on and that's in the Linden area," Ramnarine told reporters on Thursday, while noting that several searches were carried out by the Joint Services in the area after they received information on the whereabouts of Lusignan Prison escapee Goriah.
The searches, however, were unsuccessful.
"Over the last few weeks, we have launched a number of operations which basically include searches, combing of certain backlands—the last I recall, well in fact there were two a few days ago in the Yarrowkabra area, where we got the information that Paul Goriah and someone was seen in that area," he explained.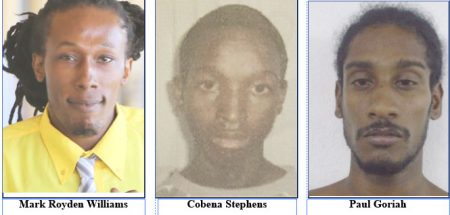 Ramnarine added that the Joint Services have put measures in place to disrupt possible support to the escapees. He added that these measures have "proven to be effective." "It is that disruption that led to the demise, if I can put it that way, of Uree Varswyk," he said. "We have no doubts that once we keep it that way, some people with lawful intentions and law enforcement would not be defeated," he added.
Ramnarine also reiterated a call for residents to cooperate and work with the police to recapture the escapees.
Between the night of August 31 and early on the morning of September 1, Varswyk was shot dead during a confrontation with the Joint Services at Central Amelia's Ward.
Varswyk, a former policeman, and Williams engaged the Joint Services in a shootout. Varswyk was fatally wounded, while Williams escaped.
On July 9, Williams, Stephens and Varswyk, along with Stafrei Alexander, Cornelius Thomas and Desmond James, escaped from the Georgetown Prison, which was also devastated by a fire that was set during the jailbreak.
Williams, who was convicted for his part in the 2008 Bartica massacre, is believed to be the mastermind of the breakout and based on eyewitness accounts Varswyk also played a major role.
Prison guard Odinga Wickham died after being shot multiple times during the breakout. Alexander, Thomas and James have all been recaptured.
Goriah, meanwhile, was one of 13 prisoners who escaped from a holding facility at Lusignan on July 24. Eleven of them have been recaptured, while the other was killed.
Around the Web