As part of ongoing efforts to combat Lymphatic filariasis, a Mass Drug Administration (MDA) campaign will be executed through the public school system and Education Minister Nicolette Henry yesterday urged the support of parents.
The launch of the campaign, which is being undertaken by the Education and Public Health ministries, was conducted yesterday at the Square of the Revolution.
A statement from the Ministry of Education said that it decided to collaborate with the Ministry of Public Health in the drug administration programme since studies show that children were not meeting the targets for taking medication to fight the infection.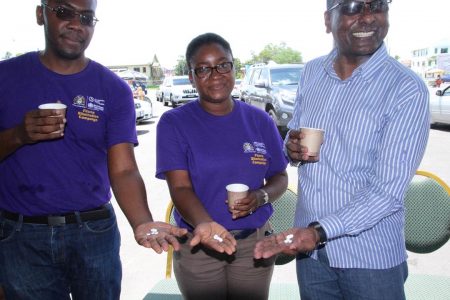 According to a World Health Organization (WHO) fact sheet, Lymphatic filariasis, commonly known as elephantiasis, is a neglected tropical disease. "Infection occurs when filarial parasites are transmitted to humans through mosquitoes. Infection is usually acquired in childhood causing hidden damage to the lymphatic system," it says. "The painful and profoundly disfiguring visible manifestations of the disease, lymphoedema, elephantiasis and scrotal swelling occur later in life and can lead to permanent disability. These patients are not only physically disabled, but suffer mental, social and financial losses contributing to stigma and poverty," it adds. According to the Education Ministry, Henry explained that under the administration programme, every parent or guardian will be furnished with a form with important information on the campaign as well as a detachable sheet to fill-out and return to the child's class teacher, if they feel strongly about their child not being given tablets to prevent the disease. She further explained that this month, Ministry of Public Health staff will also be distributing the tablets, which will be given to each child.
Henry also outlined tips that parents can employ to ensure the continued good health of their children, including teach healthy practices such as regular hand washing, especially after playing or using the toilet and before eating.
Meanwhile, the statement added that Minister within the Ministry of Public Health Dr. Karen Cummings said that since the launch of the MDA programme in Guyana in 2003, many Guyanese have benefited in a number of ways, resulting in a significant reduction of new cases of Lymphatic filariasis.
"Though there have been some peripheral challenges in the initial rollout of the MDA programme in Guyana, I'm very pleased that this programme has prevailed. The staff involved in the conduct of this programme must be commended for being committed to established goals and objectives," she was quoted as saying She also noted that the infection is a leading cause of long-term disability worldwide among men and women, while government medical officer Dr. Fabu Moses, who also spoke, said that in Guyana there is still a 90 per cent risk of infection.
Meanwhile, Chief Medical Officer Dr. Shamdeo Persaud was reported as saying that the number of infected persons has decreased significantly. "From more than 150 patients that we were seeing in the mid-2000s, now they are only about fifteen patients that have to be actively managed at the clinic. Last year there were only 82 surgeries for hydrocele as compared to 447 in 2005," he said
He added, "For us to achieve elimination we need to reach less than one per cent of the population with any form of infection. The last estimate we had was about 4.5 per cent from about 48 per cent. We've have actually done a lot of the work already. This final push is really to get to those last few people that might be infected with filaria."
Additionally, PAHO/WHO Representative for Guyana Dr. William Adu-Krow said that if everything is done right, Guyana can eliminate Lymphatic filariasis by 2027.
Around the Web