Pizza Hut Guyana is set to open up at the Buddy's Building on Sheriff Street.
It will be located on the ground floor of the  building which once housed the Buddy's night club.  Final touches to transform the club-like setting into an eatery is underway as the franchise holder, Corum Group aims at an opening this week.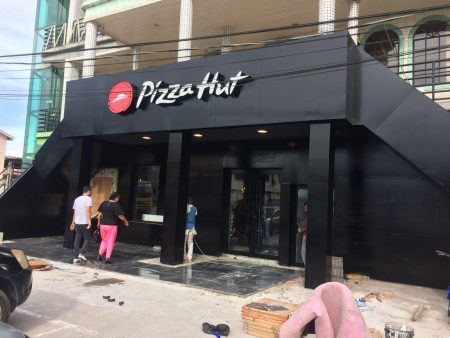 Marketing Director for Pizza Hut Guyana, Navin Singh yesterday told Stabroek News that the eatery would boast a new line of food. He explained that they would be introducing a variety of wines, cocktails, milkshakes and beers along with extended options of appetisers, entrees and desserts.
Singh said "if you look at all the fast food restaurants…they have this fast food feel to it and the delivery and take out options are good, but people still need to have a nice fine dining environment and we try to merge the two at this location…"
He noted that this would be the first Pizza Hut in the Caribbean that would have a bar.
The Pizza Hut franchise returned to Guyana in 2015 and opened its first location on Regent Street. This would be the fourth location for the company since its return.
Around the Web