Sheila Harrichand, whose house collapsed during a storm at Bath Settlement, West Coast Berbice two weeks ago, is calling on the region and the government to fulfill their promise of assisting her with rebuilding.
After the woman's house collapsed and several roofs were damaged, Prime Minister Moses Nagamootoo along with the Regional Executive Officer of Region Five, Ovid Morrison, representatives of the Civil Defence Commission and other officials had visited her and other affected residents. During the visit, a promise was made to assist the residents with rebuilding their damaged structures.
But Harrichand yesterday told Stabroek News that not much has been done since for her. "Them [officials] been say how them go send one contractor and he go use them materials wah been good and build up back the house and that whatever else needed them been gon assist," she said. However, her house is still without a back wall and a roof.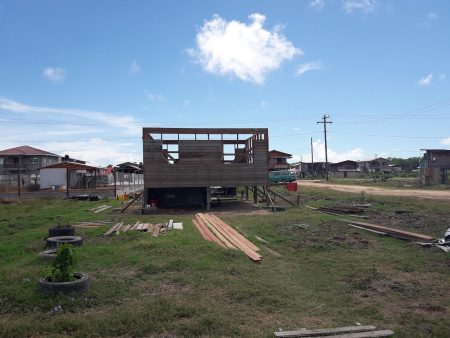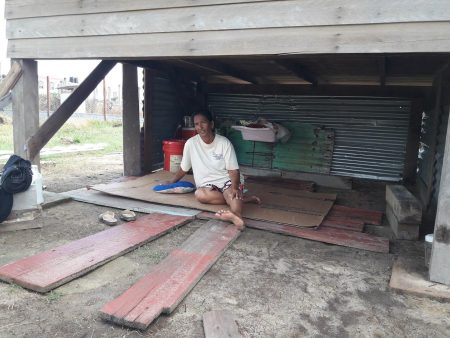 According to Harrichand, after the officials' visit, a contractor had visited her home and assessed the situation, after which he began to work. However, he was unable to complete the work since there was not enough materials to build a complete structure. "He used all wah been good and make this but it nah got roof and back. How me go stay inside?" she said.
As a result, Harrichand is making do with living under the structure the contractor put up. "I ain't want burden people. How long me neighbours go keep me? So I stay underneath here.
Me got all me things them, me a cook and sleep here. I just want if them can assist with me four walls and a roof, I go make do and live inside," said the woman, who is a domestic worker.
Harrichand also stated that sometime last week she visited the regional office, where she was told that the contractor was awaiting the necessary materials to complete the work.
"Them keep saying it go start, it go start and nothing. The last time them tell me how the wood been deh a come up and the truck break down, now me hear that today [yesterday] the wood supposed to reach the region," she said.
She further added that she is fearful that she can be attacked while sleeping in an area that is not enclosed. "Me scared [of] snakes and so, and somebody wicked can come pon me, nighttime. Me barely a sleep, me a wake up and watch around steady, steady," she added.
Harrichand is pleading with the authorities to speed up the process of assisting her with rebuilding her house. "Me glad them helping but how long me go stay like this?" she questioned.
Stabroek News was able to confirm that some materials were yesterday taken to the Regional Administration's office.
Meanwhile, other persons whose roofs were damaged during the storm have since rebuilt with some assistance from the region.
Around the Web