An East Coast Demerara family is seeking the public's help to find their motor car after they say it was hijacked by a gunman on Wednesday evening in the vicinity of the Sheriff Street Royal Castle.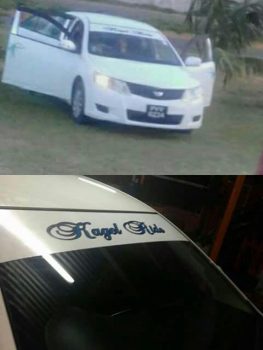 Stabroek News learnt that the family had stopped at the fast food location to make a purchase when  two men, one of whom was armed with a gun, approached the driver and demanded the he exit the car. After some hesitation by the driver, the gunman pulled him out of the vehicle and drove off.
The family said the car, which is a new model Toyota Allion bearing registration number PVV 6234 was recently purchased and is worth $3.4 million.
The driver D. Thakaram explained that the men pounced on him as he was waiting on two family members. "Two guys come from nowhere and approached me, one came around the driver side and the other went around the passenger.
The one on the driver side placed a gun to my  head and tell me come out of the car," Thakaram recounted adding that he tried to grab the keys for the car but after the bandits realised he was trying to remove the keys, "he pulled me out of the car and they jumped in and drive away."
Along with the car, the men also escaped with three cellular phones and personal documents that were in the car.
Around the Web