Minister of State, Joseph Harmon on Friday evening said that training and enhancement of skills are essential components in maintaining safety in the aviation sector in Guyana as he commended the nine pilots and eleven engineers, who completed the initial and recurrent trainings hosted by JAGS Aviation Incorporated.
A Ministry of the Presidency release said that the training was to familiarise and re-familiarise the aviators with the operations of the PZL M28-025 aircraft, popularly referred to as the 'Skytruck M28'.
The aviation industry has come under intensified scrutiny over three shuttle flight crashes which killed two pilots. This led to a suspension of shuttle flights until operators could assure the Guyana Civil Aviation Authority of their procedures.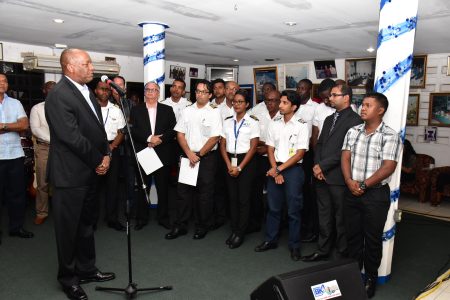 Harmon, according to the release, said that training and the upgrading of one's skills and knowledge are critical to any field and more so aviation.
"I am happy to be here this evening to witness this ceremony, which is marking your competence with this aircraft.
Sometimes as a passenger, when a plane takes off, you hope that it will land safely. The persons behind the aircraft, not just the pilots but the engineers, we take all of these things for granted because we believe that the certificate we received makes us capable but [it is important that we enhance our skills]," he said.
Harmon expressed confidence that the newly trained pilots and engineers, who were certified to fly and conduct maintenance checks on the Skytruck will contribute to safer air travel to the hinterland. Harmon noted that the training will not only serve to boost safety in the sector but will contribute economically to the country as both people and cargo can now be transported from the Eugene F. Correia International Air-port, using the Skytruck, which is a larger aircraft. He said it will not only significantly reduce cost for the average flyer but will also see more trading being done between the hinterland and the Coastland.
Around the Web