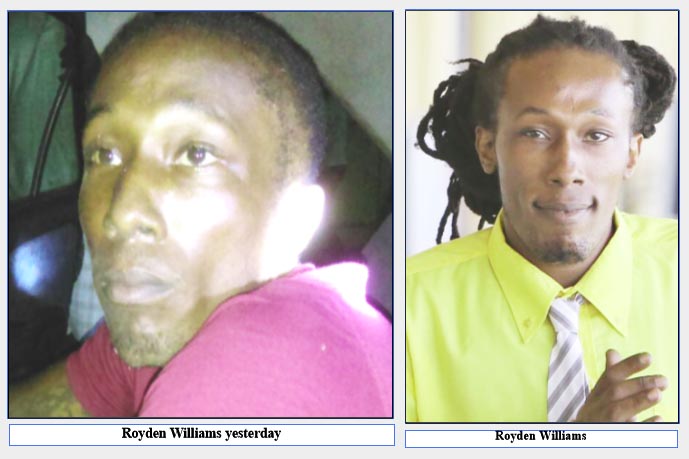 Shorn of his trademark dreadlocks, the suspected mastermind of the July 9th Camp Street jailbreak, Royden Williams was last night recaptured by the police.
Acting Police Commissioner David Ramnarine said that Williams known as Smallie was intercepted and recaptured at approximately 8 pm along the Weldaad, West Coast Berbice Public Road.
Durant was travelling in a public mini bus heading east. He was  travelling alone and was unarmed, according to a statement from the police. Williams was seen to be the most dangerous of the escapees from July 9th.
His recapture would be seen as a boost for the police force which has been buffeted by weeks of negative headlines due to corrupt acts by its members and gross failures,
The breakout on July 9th saw the death of a prison officer and the fiery demolition of the Camp Street prison. Prison Officer Odinga Wain Wickham was fatally shot during the uprising and several other prison officers severely wounded.
Williams will now likely face a series of new charges including murder. He had been sentenced to death in relation to the 2008 Bartica massacre.
Williams  and his co-accused Dennis Williams, called "Anaconda," who were both sentenced to death, had appealed their convictions earlier this year.
In February, a jury unanimously found the men guilty of storming Bartica, where 12 men, including three police officers, were killed during an almost hour-long assault. Those killed in the rampage, were police officers Lance Corporal Zaheer Zakir, and Constables Shane Fredericks and Ron Osborne, and civilians Edwin Gilkes, Dexter Adrian, Irving Ferreira, Deonarine Singh, Ronald Gomes, Ashraf Khan, Abdool Yasseen, Errol Thomas, and Baldeo Singh.
In their notices of appeal, filed on February 16, about two weeks after their convictions, both convicts contended that their trials were unfair and that the court had no jurisdiction to hear their matters.
At the end of July, Williams managed to elude the police when his fellow escapee Uree Varswyk, was shot dead by the law enforcers  in an operation in Linden .
Varswyk was killed during a shootout with joint services ranks at Central Amelia's Ward. Williams was said to have been with Varswyk but apparently fled the scene.
The July 9th destruction of the Camp Street jail sparked weeks of unrest in the prison system that saw a mass breakout from the Lusignan Prison where the Camp Street prisoners were being kept temporarily in an open air setting. There were numerous other incidents and up to last week there was another escape from the Lusignan Prison. All of the escapees from July 9th jail break have now been accounted for except for Cobena Stephens.
On August 9, the police offered a reward of $10 Million for information leading to the arrest of the remaining prison escapees. The other escapee, Paul Goriah had fled from Lusignan.
Around the Web