In light of Dynamic International Airways reassuring customers that they would have their money refunded on unused tickets, the Guyana Civil Aviation Authority (GCAA) says they have written the company for clarification and are awaiting a response.
On Monday, the company's CEO Ray Lawlor, had confirmed that the company would be pulling out of the Guyanese market and would no longer be offering flights from Guyana to New York, which it had provided since 2014. Lawlor assured that customers who had purchased tickets for any date beyond October 3 will be reimbursed. However, he could not give a time frame for when customers could expect their refunds.
Dynamic's local representative, Gerry Gouveia, CEO of Roraima Airways Limited, had also explained that there is no specific date when customers could expect their money back since documents would have to be processed.
Speaking to Stabroek News on Wednesday, Saheed Sulaman, the acting head of GCAA, said that the airline had written to GCAA four days ago.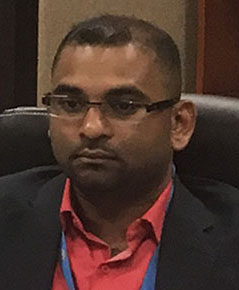 "They sent us a missive advising us and reassuring us that all passengers who were scheduled to use their services after October 3, would be issued a refund. Since receiving their missive we have communicated back to them that we need further clarification," Sulaman said, while adding that they have not received any response from the company as yet.
Stabroek News had earlier reported that airline had signed a bond of US$200,000 with the Ministry of Public Infrastructure.
While there are no regulations stipulating a time frame for the airline to refund passengers, in the event of the company taking too long, the Ministry has an option to tap into the bond and repay the customers.
However, the Ministry would have to assign staff to verify the customers' documents, which have to be used to prove that they possess unused tickets after the specified cut-off date.
"Customers would then have to submit their documents and the Ministry would appoint staff to look at those claims and then give them the greenlight or not," a source from the Ministry said.
Once the airline has failed to reimburse their customers, the Ministry would have to issue an advisory with dates for the clients to submit their claims, and then the Ministry would have to access the bond to facilitate the reimbursements.
Stabroek News understands that the processing of the documents to refund customers is oft times tedious and difficult, since some customers would have paid via credit or debit cards, and as such, the airline would then have to verify with the financial institutions that the transactions had been made.
In July this year, Dynamic filed for bankruptcy and a statement had explained that a voluntary Chapter 11 had been filed with the United States Bankruptcy Court in the Middle District of North Carolina, Greensboro Division. The decision to file for bankruptcy followed litigation resulting from Hajj flights Dynamic Airways had operated in 2014 for Air India, as well as, the entry of a judgment in the United States District Court for the Middle District of North Carolina affirming an arbitration award against Dynamic, issued by the Canadian Arbitration Association in April 2017.
Subsequently, Dynamic was found to be in breach of the contract for failing to pay commissions to BKP Enterprises in connection with the Hajj flights and was fined US$120,000 by the United States Department of Transportation for failure to promptly notify passengers of flight cancellations, which violated a cease and desist provision which had been made in March, 2016.
Around the Web