The leaking of a nude photo of recaptured convict Mark Royden Williams is of grave concern and those responsible for it going viral ought to be disciplined, President of the Guyana Human Rights Association (GHRA) Mike McCormack says.
"The issue of how the photo found its way onto social media should not be taken lightly and those responsible should be seriously disciplined," McCormack told Stabroek News.
A nude photograph of Williams, with his hands handcuffed and feet shackled, was posted on Facebook on Tuesday. In the photo, Williams is seen holding a bottle of water over his privates. It is unclear when the photograph was taken.
McCormack told Stabroek News that GHRA has no issue with the examination of Williams in his naked state, once it is the standard procedure and is done in a suitable environment which would not cause any embarrassment.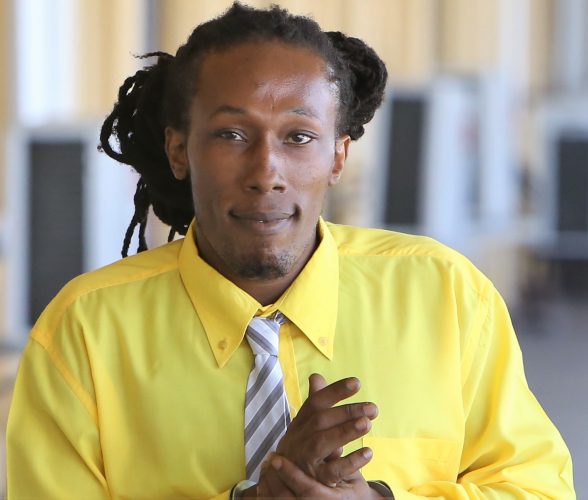 He stressed that if authorities have to examine a prisoner when he first enters the prison environment to ensure the safety of other prisoners and prison officials, "there is no difficulty once it is carried out in a respectful way."
McCormack stated that the stripping of Williams, who is a high profile prisoner, ought not to be seen as a violation.
"Stripping is not something we would take issue with… If the photo is not routine, it should not have been done unless there was some special reason," he stressed.
However, he stressed that GHRA has an issue with the photo reaching social media. McCormack stressed the importance of those responsible being held accountable for their actions to send a message that such behaviour is not only wrong but will not be tolerated.
He said that if serious disciplinary action is not taken, leaking of such photos can become "routine" and anyone could become vulnerable.
Acting Prisons Director Gladwin Samuels told Stabroek News on Wednesday night that four suspects have been identified.
"The investigation is active. There are suspects. [We are] working to narrow [them] down," he said.
Samuels made it clear that the photograph was intended for updating records pertaining to identification marks. Williams has several tattoos.
"That for some strange reason was not respected, which resulted in the outward circulation of the restricted photo," he said.
It was pointed out by observers that the photographing of his body should not require Williams to be in the pose that he was photographed in and the distribution of the photograph is a gross violation of his rights and offending of his dignity.
In 2009, a boy tortured in a police station was similarly photographed, most likely by his torturers, and the photograph was circulated.
The police force has also taken issue with the leaking of the photo, calling it unacceptable.
Guyana Police Force Public Relations Officer Shivpersaud Bacchus, in a statement hours after the photo appeared on Facebook, said even though the stripping of inmates is done for identification purposes, such as to document distinguishing features like tattoos, the leaking of the photo cannot be condoned.
Bacchus said the "grossly unethical, irresponsible and insensitive" act was committed within the prison environment during the period when Williams was being processed and prior to his placement in a cell.
Williams, known as 'Smallie,' was intercepted and recaptured at around 8pm on Monday by the police along the Weldaad, West Coast Berbice Public Road.
The police had said that at the time he was travelling in a public minibus. He was alone and unarmed.
He was said to be the mastermind of the July 9 unrest at the Camp Street Prison, during which the facility was devastated by a fire and a prison officer was killed. He was one of six prisoner who managed to escape.
Around the Web