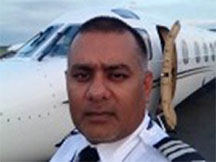 The prosecution has objected to convicted Guyanese pilot Khamraj Lall being granted bail on new money laundering and drug trafficking charges, arguing that his lawyer has presented no new evidence to support the claim that he is not a flight risk.
United States Assistant Attorney Jonathan M. Peck, in response to an application by Lall's lawyer, Michael D'Alessio Jr, argued in a motion before New Jersey District Judge Steven C. Mannion that the same court had denied Lall bail on September 17th, 2015, when he faced charges similar to the ones he now faces.
He said that the bail application should be denied because it is untimely, it presents information and evidence that were previously submitted to the court or known to the defendant during prior bail hearings, and it fails to demonstrate how continued incarceration will impact any constitutional right.
He said in Lall's motion for bail, he has not put forward any information or evidence that was not known to him at the time of the last bail hearing before the court. "Instead, Lall argues that he is not a flight risk for reasons that are almost identical to the reasons presented during the two prior bail hearings in July and September and 2015. Moreover, the properties he has now proposed to secure a bond are the exact same properties he put forward [in] the prior application," Peck said.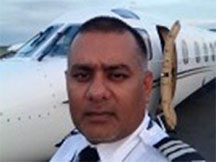 He added that Lall's detention does not violate due process. He also noted that in the bail motion, Lall argued that his detention was somehow the result of a delay caused by the government, which he called a baseless argument.
The lawyer also pointed out that while Lall was in prison, his trial for the charges which he now faces, which were refiled in July in New Jersey after similar charges were dismissed in New York, were taken off the calendar after the prosecution and the defence entered into plea negotiations.
Unfortunately, the lawyer said, following extensive discussions in the summer of this year, the negotiations broke down.
Further, the prosecution argued that Lall's continued detention will not violate his Sixth Amendment right to counsel.
Meanwhile, Lalls' request to move prisons was granted.
Lall had moved to be transferred back to the Essex County Jail, where he had already spent two years, from the Monmouth County, where he was transferred several weeks ago for arraignment on the new charges he now faces.
Lall was sentenced in 2016 by US District Judge Jay A. Garcia-Gregory to one year in prison and his private jet and over half a million US dollars seized from him were forfeited to the US government after he had pleaded guilty to bulk cash smuggling.
At the time of his sentencing, Lall also faced charges both in New Jersey and in New York for alleged money laundering and drug trafficking.
While he was defending the charges in New York during the year he was incarcerated, the cases in New Jersey had not progressed. However, in August of this year, the prosecution in New Jersey filed a new indictment, this time charging Lall with four crimes.
He is now facing a conspiracy to launder money, conspiracy to structure funds, conspiracy to import cocaine and conspiracy to distribute cocaine, all allegedly committed between April, 2011 and November, 2014.
Following the filing of the new indictment, which also included a new forfeiture application, the charges in New York were discontinued since the prosecution acknowledged that they were similar to the ones he now faces in New Jersey.
Lall's legal woes began in November of 2014, when searches of his private aircraft during a refueling stop at the Luis Munoz International Airport, in San Juan, Puerto Rico uncovered US$620,000 stashed aboard the plane. Lall was travelling to Guyana at the time.
Around the Web