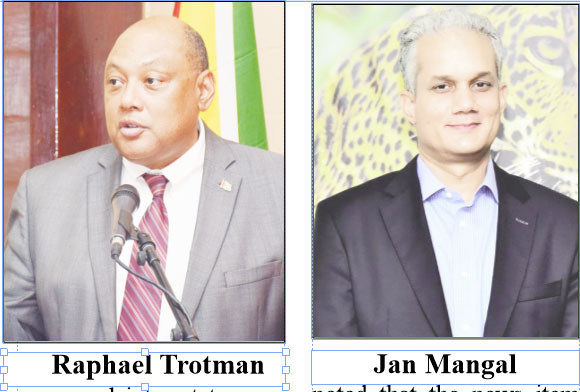 The government is still to decide how the remaining oil exploration blocks will be assigned despite a statement by its petroleum advisor, Dr Jan Mangal, that competitive bidding is the way to go to avoid the risk of corruption.
"…Whether we use the open bidding mechanism or direct negotiations to allocate these blocks to oil and gas investors will be determined by the national interest, which will be determined by Cabinet," Minister of Natural Resources Raphael Trotman said on Thursday in response to a question by Stabroek News.
His reference to remaining oil blocks underlined a recent blunder of Minister of Public Infrastructure David Patterson, who had said at a press conference that all the blocks had been allocated under the former People's Progressive Party/Civic (PPP/C) governments.
Only a small area offshore Guyana has remaining oil blocks, Trotman told Stabroek News.
"Whilst there are a few remaining oil blocks offshore Guyana, the much sought after areas have been all but taken up; save and except one small area," Trotman said in response to questions posed.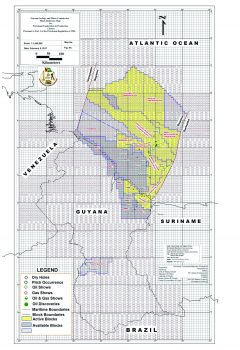 He explained that Guyana has two demarcated basins that have hydrocarbon potential–the Stabroek Basin, which is partly on shore and offshore Guyana, and the Takutu Basin, which is in the Rupununi area.
However, most interest has been on the offshore area and particularly in the deep sea.
According to a Guyana Geology and Mines Commission (GGMC) map that was updated in February this year, there are not many areas left that have not been contracted out to companies. The companies that have blocks in the deep water area, offshore Guyana, are: Repsol and Tullow Oil (the Kanuku Block); Tullow (the Orinduik Block); Anadarko (the Roraima Block); Ratio Oil (the Kaieteur Block); Esso, CNOOC Nexen and Hess (the Stabroek Block); Esso, Mid Atlantic and JHI (the Canje Block; CGX (the Demerara and Corentyne blocks); ON Energy; and Nabi. All were granted contracts during the PPP/C's time in office.
The Ministry of Natural Resources did not give the dates of when the blocks were contracted out or specify how many blocks each company obtained.
According to the map, only a small area is still available.
Trotman was asked if an auction system would be used to allocate the remaining blocks and he said the national interest, which will be determined by Cabinet, would be determine the decision.
"We are committed to ensuring that whatever decision we take is guided by the vision as to what is best for the people of Guyana who are the owners of the national patrimony. Cabinet will consider this matter in the upcoming months," he added.
Already Chevron has expressed interest to government in establishing its presence here.
On the sidelines of the recently concluded United Nations General Assembly Meeting, President Granger met with representatives of Chevron.
Trotman said that there are ongoing discussions with Chevron and other companies.
"There are ongoing discussions with a number of petroleum companies as they continue to express an interest in Guyana given recent discoveries and developments. However, as to your question on whether Chevron has expressed an interest in establishing a presence here, yes, Chevron has expressed keen interest," he said.
Best approach
Mangal last month said that with the discovery of the ExxonMobil Liza well, competitive bidding should be employed in the award of oil exploration leases.
In a letter in the Sunday Stabroek, Mangal was responding to a news item in the Guyana Times of September 14th.
Mangal, in his letter, noted that the news item raises concerns about the type of process used in the award of petroleum leases or blocks i.e. the "one-on-one negotiation" or "open door" method.
The adviser noted that in the "open door" method, the Ministry of Natural Resources negotiates directly with the interested party. "There is a very serious risk of corruption with this method due to the lack of transparency and accountability. Most countries have abandoned this method as experts recommend against using it. Guyana should no longer be awarding petroleum acreage via one-on-one negotiations after the Liza discovery in 2015," the adviser said.
He stated that after the Liza discovery in 2015, Guyana is now in a position to use the method of competitive bidding for the award of leases. The Liza discovery, he said, de-risked Guyana and, as a consequence, all the major oil companies recognise that there is oil in the country.   Therefore, he said, all the oil companies will be interested in bidding for leases in a transparent way, which ensures that Guyana leverages market forces to maximise its share.
Mangal also said that he has consistently maintained that competitive bidding is indeed the best approach for Guyana. He added that in direct correspondence with one such oil company attempting to acquire acreage via one-on-one negotiation, he said that he indicated clearly to them that "Now that Guyana is on the radar post-Liza, it is my personal view that all future acreage should be leased in a way which maximises benefit to Guyana, hence in a market orientated way by an open bid round to ensure competition. And acreage should not be negotiated one-on-one between the Government and a prospective developer."
He stated that the risk of "government friends and family illegally obtaining leases will be significantly reduced if an independently managed and well audited competitive bidding process is used."  He said that there is no rush to award more leases since Guyana is already occupied with the developments in the Stabroek Block.
Around the Web