Two Corentyne hire care drivers were arrested after they collided along the Letter Kenny Public Road, on the Corentyne on Friday, leaving several passengers, including school children, injured.
The accident occurred a short while after 3pm, as the driver of HC 5545, who was proceeding north along the Letter Kenny Public Road, reportedly attempted to overtake another vehicle. However, he  slammed head on into motor car HC 6447, which was travelling from the opposite direction.
Stabroek News was told, that six school students along with Delroy Watts, 30, Saneeta Persaud, of Chesney Front, Corentyne, Royden Grey, Steven Samaroo, Jamal Kingston, and Shakael Luke, were injured.
Officer-in-Charge of Traffic for 'B' Division, Denis Stephen, noted that the school children, whose ages ranged between 15 and 17 years, were all treated and sent home.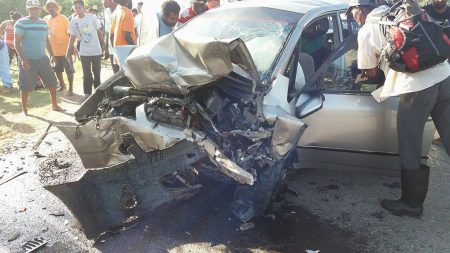 Joshua Persaud, 33 of Lot 17 Chesney Front, Corentyne told this publication yesterday at the New Amsterdam Public Hospital that he and his wife, Saneeta Persaud, boarded a car from Skeldon and were heading home when the accident occurred. He explained that he was sitting behind the driver and his wife was sitting next to him. He said there was another female passenger sitting next to his wife and a female passenger also occupied the front seat. "We coming and I bend me head back and fall asleep and when the accident happen I pitch out the car and one man pick me up and carry me the hospital," Persaud related.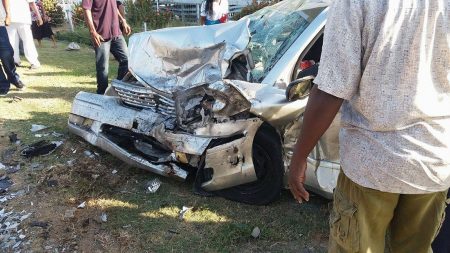 He added that his wife, who has since been admitted in the New Amsterdam Public Hospital, told him that two cars were "racing coming and one go fa overtake and slam into we."
The man, who sustained two lacerations to his head and trauma to his limbs, noted that his wife sustained injuries to her stomach and both legs.
Relatives of the other persons who were admitted to the hospital were reluctant to speak with the media. Stabroek News was, however, told that several other persons sustained injuries to their legs and other minor injuries about their bodies. The injured persons were all rushed to the Port Mourant Public Hospital on Friday afternoon. Some were treated and sent away, while the others were transferred to the New Amsterdam Public Hospital.
Around the Web