Effective January 1, 2018 property owners applying to the Mayor and City Council (M&CC) for a certificate of compliance will have to pay an increased fee.
Council decided at a statutory meeting yesterday to raise the cost of the certificate to 0.75% of the property value. This represents a significant increase from the present 0.1% at a time when one councillor observed that there has been an increase in the requests for these certificates.
In a report to the full council, the Finance Committee noted that council is currently supplying persons these certificates in order to facilitate property sales at a price which does not take into account the real costs of preparing and issuing the document.
According to the submission, a review of the fees was done by the administration which recommended that the percentage charged be altered to a cost of 0.75%. While it was reported to council that this was the decision of the committee, councillor Junior Garrett, a member of the committee strenuously objected to this "750%" increase in "taxation".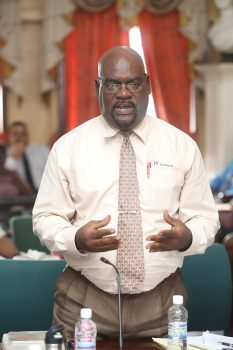 The councillor argued that it was unconscionable that the council would impose such a large increase on property owners in such a short period of time. He challenged the claim made by the administration through Town Clerk Royston King that council resources are expended on producing the certificates.
King had told council that every detail of the certificate is verified by the council which requires site visits from the Engineer's Department and separate property valuations.
"We do not depend on the information from other sources," he told the council.
Garrett, who was supported in his objection by fellow APNU councillor Gregory Fraser and PPP/C councillors Khame Sharma and Bishram Kuppen, suggested that an increase to 0.25% would be more acceptable.
However after thirty minutes of discussion a majority vote of council saw the 0.75% increase being passed. Of the 19 councillors present 14 voted for the recommended increase, four against while councillor Andrea Marks abstained.
Meanwhile, Councillor Alfred Mentore failed in his attempt to have council review the issuance of compliance certificates in the Houston area of the proposed site of new Demerara Harbour Bridge.
Mentore, a real estate agent, told council that as a member of the City Works Committee he had noticed an increase in the number of certificates being issued to the Houston estate for sale of land parcels to private individuals and asked if in the "interest of progress" council would consider either informing central government of these increased requests or "employing some stalling" so that in any possible land negotiations the government would not be forced to deal with numerous, diverse owners.
This request was vehemently denied by Mayor Patricia Chase-Green who told Mentore that it is not for the M&CC as a local government body to do the bidding of central government.
"Let us not make ourselves less than we are councillor," she said explaining that M&CC must fulfil its mandate including issuing these certificates and would not be writing the Ministry of Public Infrastructure or any other central government body based on these assertions.
Mentore was advised to present to council concrete evidence of any activity which would require council action and not ask council to act on assertions.
Around the Web