Prison Officer, George Selman was yesterday remanded to prison after he was charged with assaulting a co-worker.
Selman appeared before Magistrate Leron Daly, who read the charge which stated that on August 7, at the Camp Street Prison, he assaulted Prison Officer 24185 Rodrigues, who was acting in the execution of his duties.
Selman denied the charge.
The prosecutor then objected to bail being granted citing the fact that the accused was charged and found guilty of a similar offence, where he assaulted an officer at the Leonora Magistrate's Court and was sentenced for the crime. The prosecutor further noted that Selman was also charged with assaulting two minors and was involved in an incident with his ex-wife, who was a teacher, and had to be hiding from him, because he continually violated a protection order she took out against him.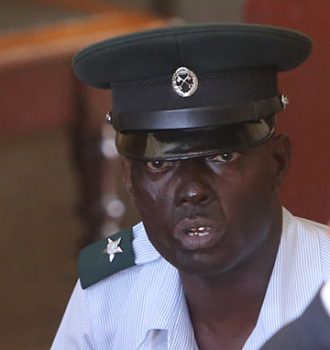 According to the prosecutor, in each instance Selman showed a blatant disregard for the laws of the country and should be remanded to prison.
Magistrate Daly agreed with the prosecutor and subsequently, remanded the accused.
However, attorneys Mark Waldron and Patrice Henry, who appeared as friends of the court, pleaded on his behalf for bail to be granted, citing the fact that this decision will have an impact on his livelihood.
Attorney Stanley Moore, later in the day, entered an appearance for the accused and told the court that the incident would have occurred during the Camp Street fire, adding that, despite the fact that Selman was convicted for an assault matter, he was rehired by the Guyana Prison Service, which, according to the attorney, would show his good standing with them.
Despite the attorney's pleas, Magistrate Daly stated that the accused has a tendency of disobeying the laws of the country and as such, she maintained her decision to remand him to prison.
The matter will be called again on November 3 before Magistrate Judy Latchman.
Around the Web