Squatters from 'A' Field, Sophia and the Central Housing and Planning Authority (CH&PA) yesterday reached a compromise following last week's tearing down of a number of illegal structures by the CH&PA.
Almost two dozen squatters congregated in front of the CH&PA Headquarters on Brickdam and called for house lots before they would move. The group, during the protest were heard chanting "Where we going?"  "We must get land!" "Where we putting we children them?"
During the protest children dressed in school clothes were also on the picket line holding placards.
The protest yesterday was sparked by CH&PA actions of last Thursday where theymoved into 'A' Field, and demolished almost two dozen structures on the government reserve. The demolition exercise was to target structures that were illegally built on the government reserves in 'A'  Field and 'B'  Field, in preparation for the execution of community development works under the US$30 million 'Road Network Upgrade and Expansion Programme.'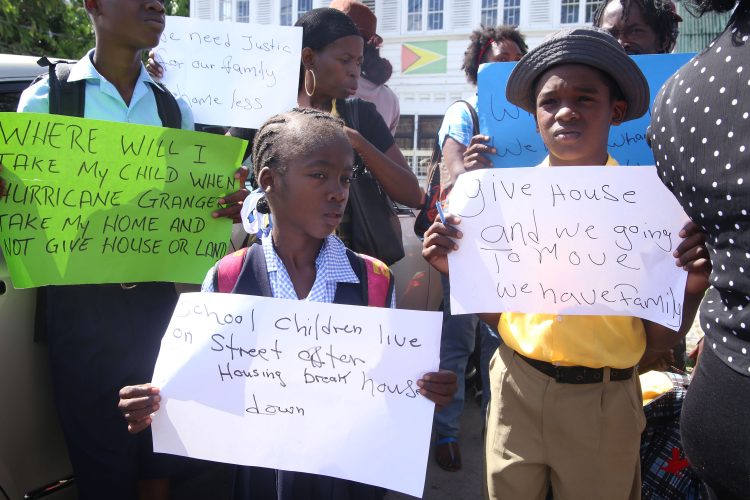 The demolished structures included abandoned ones, recently built units, and some under construction. In one instance, it was noted that the owner of one of the structures was the owner of a house lot.
However, despite the cries of the squatters, CH&PA's Chief Executive Officer Lelon Saul, reminded that squatting is an illegal act. Following a meeting yesterday with Clayton Jarvis, the leader of the group of squatters, Saul said they had reached an agreement for the parties to work together. Jarvis, leader of the group, would have to ensure that no new squatters move into the area, while the CH&PA processes the applications for house lots from the squatters. Saul, however, clarified that no special treatment will be given and all applications will go through the usual process.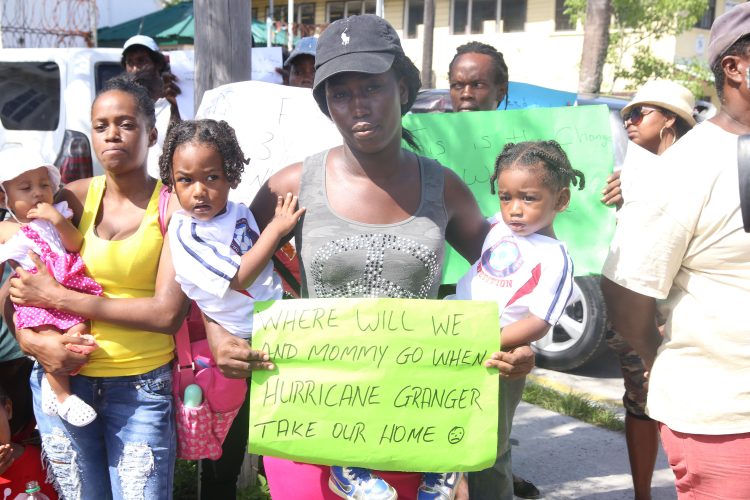 The CH&PA, in a press statement yesterday, explained that Jarvis will work together with CH&PA and the Anti-Squatting Task Force of Constituencies 5 and 6 to remove squatters who are owners of house lots, but continue to squat. At the same time, the CH&PA would seek to facilitate "the registration of new applicants who are squatting on the reserves in the two constituencies" and provide an update on the status of applications for lands made by the initial squatters.
Saul told reporters in his office yesterday, subsequent to the meeting that the "Government is currently addressing the issue of quality and affordable housing. We are looking at several models of how we can provide affordable housing for every citizen."
Asked about applicants not receiving a response, the CEO said "It is obvious we don't have any lands available and that is why we haven't responded to applications."
"Squatting is illegal and it doesn't give anyone the right to squat on government reserve," Saul cautioned,  highlighting the negative impact of squatting, "such as flooding and the irregularities in  (a) settlement [where] people steal electricity and tap into the water main… we want to discourage people from squatting."
Jarvis told reporters that the group had decided to protest  against the actions of the authorities since their livelihoods were at stake.  He added that he was happy with the outcome of the meeting and is looking forward to collaborating with CH&PA to iron out the issues faced.
At the protest yesterday, the squatters highlighted that it is not their wish to squat on reserve lands. They admitted to being aware of living on the government reserve because they are not owners of a piece of land and cannot afford to rent a property.
One resident, Cheryl Davis, a hairdresser told this newspaper "I have nowhere to go because if I have somewhere to go, I would have never been living there. I have kids and I don't want them to live between two drains. Every day you have to study if alligators (caimans) and snake come out and injure them. Living there is not something we want to do." She added that she had applied for land but never received a response. "They say they don't have lands and they have these duplex homes and I apply for it and they haven't give us any word on it," she lamented. On that note she called on the CH&PA to speed up the process for land.
Another resident identified as Maureen, said that she applied since 2004 for land and constantly followed up her application, but to date she has not received any word. She explained that because she didn't have a piece of land she was forced to squat. "I decided to go on the reserve and build until I get a piece of land that I would be able to go and start a proper life… but ah still waiting today," she said.
In addition, a mother of four, living at the back, on the northern side of Sophia told this newspaper that she cannot afford to rent a place to house her family. "I get a lil small business that I does sell food but the money from that does just help mind, me and my four children… I don't know I going to afford rent. We need land… I apply in 2015 and I still waiting, but it look like a bunch of promises," the upset mother said.
The CH&PA has intensified its Anti-Squatting Campaign in the last five months. Several billboards warning against squatting were erected in areas where squatting is widespread, meetings were held with community leaders and notices were being issued to squatters living on the reserves.
Around the Web