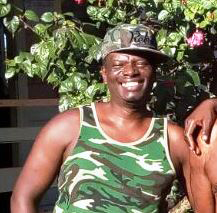 A security guard died yesterday morning after he was struck by a truck along the Land of Canaan, East Bank Demerara (EBD) public road.
The accident, which occurred around 6.45 am, resulted in the death of Joseph Harmon, 53, of Supply Public Road, EBD.
According to a statement issued by the police, Harmon had been a passenger of minibus BSS 8672. The bus stopped to pick up a passenger and Harmon disembarked to allow the incoming passenger to enter.
While Harmon was standing on the parapet of the road, a truck, GRR 9592, struck him and crashed into the minibus. The 28-year-old driver of the truck reportedly lost control of the vehicle.
Stabroek News was told that due to the impact of the collision, the minibus slammed into a car, PTT 9066, which was travelling in the opposite direction.
Harmon was subsequently taken to the Georgetown Public Hospital Corporation, where he was pronounced dead on arrival.
Harmon's mother, Joyce Joseph, told Stabroek News that she learnt of the accident from her son's supervisor around 7.30 yesterday morning. She added that at around 10 am, they were able to confirm his death when the police visited her home.
She said the details of the accident were unclear to her.
Harmon worked as a guard at National Hardware.
Around the Web