Three gunmen attacked a grocery and beer garden at Canefield, East Canje Berbice on Tuesday evening and escaped with cash and jewellery.
The owner of the shop, Drupattie Azeez, 44, said the men launched the attack as the business was being closed for the day.
According to Azeez, they had already shut the main shop door but a side entrance was left open.
"The boy that does work with me did waiting to give a girl a key, so we wait with him," she said, while noting that she, her daughter, 25, her employee and two girls were present at the time.
"Me daughter then decide that she a go look after we sick dog and when she reach in front here, a man deh in front of she and she say goodnight, because she na been see the gun because he hand went down and the gun went behind," Azeez explained.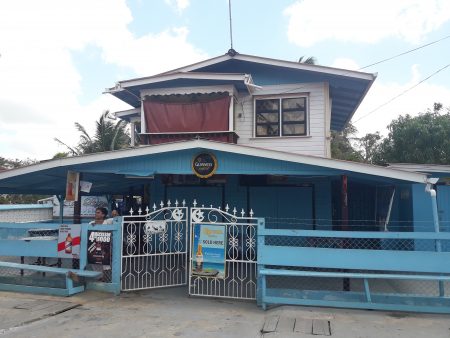 Azeez added that her daughter then observed two other men, each armed with a gun, on the road, and she immediately sounded an alarm.
"After she holla, I thought was joke she and the workman a make but when me peep out me see one person dress like he dress in uniform, this police clothes, one grey colour, with one long gun," the woman recounted.
Two of the men were masked.
Azeez and the two girls then ran into the kitchen, while the three perpetrators each ordered her daughter to kneel on the ground. "Them put the workman to lie down and tell she kneel down and don't holla," she explained. "Me daughter a beg them, 'Please don't shoot abie, please don't shoot abie,' steady," she added.
The unmasked gunman then reportedly ordered the young woman to remove all the jewellery she was wearing, while the two masked men told their accomplice to "take the girl in the shop let she bring out the money."
Azeez said they took money from the shop and phones belonging to her and her employee. "Them push down all them cigarettes and cuss up and say, 'This place na get money' and then walk out and fire off a shot and gone," she noted.
Azeez said the gunmen peeped into the kitchen, where she and the other girls were hiding, however they did not see her.
The men carted off two gold rings, worth $50,000 in total, a diamond ring, a gold chain and over $25,000 in cash along with the two cellular phones.
Police have since launched an investigation.
The family has operated their business for over 25 years now and the attack was the second time bandits pounced on them. According to Azeez, her now late husband sustained a gunshot wound in his leg during the last robbery in 2010.
Around the Web