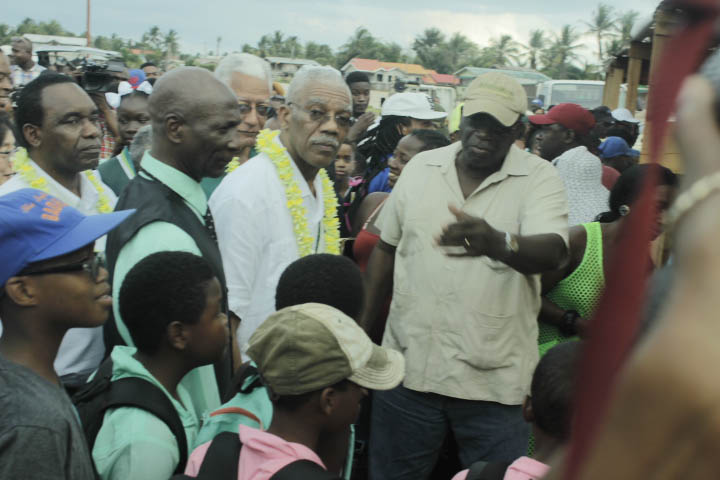 President David Granger on Monday urged Lindeners to invest in agriculture and propel food production to industrial scales.
Granger was in the mining town to observe World Food Day under the theme "Change the future of migration, invest in food security and rural development".
He told the Lindeners gathered at the Bayroc ground to celebrate the event to invest in agricultural production since Region 10 (Upper Demerara/Upper Berbice) has the necessary resources for agricultural development.
"Region 10 is essential to the agricultural development of this country, not only agricultural development but diversification and agro- industrialization. Linden and Region 10 as a whole can help to provide food for all", he declared. He noted that with agricultural products from other regions flooding the town, residents should become cognisant of this fact and become more innovative.
"We have to invest in agricultural production, every day you have to eat food, you can't eat bauxite, timber or gold, you have to invest in food," Granger argued.
"We have to move agriculture to industrial scales; we have to start producing for the market. We have to move our agriculture production," he declared.
Later in his address, he stated that Guyana is in no way threatened by hunger but by undernourishment which is because access to food is uneven because of several problems.
"We have to deal with those problems, problems of investment, problems of infrastructure and problems of agro processing", he said. He expressed hope that the celebration of the event will encourage many Guyanese to participate in agriculture. Minister of Agriculture, Noel Holder in his remarks said that the intermediate savannahs of Region 10 have been earmarked as Guyana's new agricultural frontier as the Ministry of Agriculture continues to narrow the gap between the coastal and hinterland regions.
"Region 10 is vital in the development of Guyana, it is certainly located in the heart of the country, bordering 6 other regions and has a span over the 3 major rivers. This region is unique, there is no other region that is so well connected, well wired to the country," Holder pointed out, adding that Region 10 can become the agricultural hub linking several other regions, even Brazil.
The intermediate savannahs have been plugged as the new agricultural frontier but there haven't been many takers.
The event saw many products exhibited ranging from fruits and vegetables to arts and crafts and natural products. The Ministry of Agriculture, Guyana School of Agriculture, Republic Bank (Guyana) Limited, Banks DIH and farmers were among exhibitors.
Around the Web