Vending and vehicular traffic on Bourda Street, between Regent Street and North Road, will be suspended in the coming weeks to facilitate the resurfacing works, which are expected to commence shortly.
The Mayor and City Council (M&CC) in collaboration with the Ministry of Public Infrastructure (MPI) will be resurfacing the street, which has deteriorated over time.
During a site visit yesterday, Town Clerk Royston King informed the vendors that the works are expected to begin in the next two weeks and asked for their full cooperation. Vendors who were happy to hear that the road will be fixed after years of complaining, pledged their full cooperation.
Vendors who ply their trade on the eastern side of the street, will not be removed to facilitate the resurfacing but will have to temporarily close their stalls. Vendors on the western side of the street will be moved during the resurfacing period but will be allowed to return upon completion of the project. However, they will be required to upgrade their stalls. The stalls on the eastern side are permanent structures while those on the western side are movable stalls.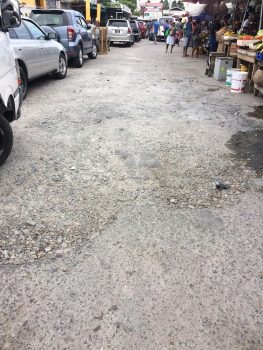 King said that the vendors will be signing agreement with the council on Tuesday, indicating that they will cooperate with the M&CC and close their operations and upgrade their stalls. This will enable their return when the works are completed.
The Town Clerk said the rehabilitation work will be completed on the road in time for the Christmas season since it is only expected to last two to three weeks. Asked about the estimated cost of the road project, King said that he is unable to give a figure since they will have to make some changes to the planned works.
He added that "once we upgrade the road and stalls, the vendors would have an increase in revenues."
"We want to use here has a tourist attraction because we have fruits and vegetables and herbs that you really can't find anywhere else in the country and the world. We have to ensure it is attractive enough to attract the people. So when they come, they can shop and improve the profit for these persons," King explained.
However, he noted that persons desirous of continuing their operations would be allowed to sell on a section of the Merriman Mall and would be relocated, once it is indicated to his office.
According to the vendors, the road has been in a deplorable state for the longest time and they are willing to close their businesses to facilitate its rehabilitation since it will be of benefit to them and their businesses.  They noted that when it rains the road becomes a mess and persons have to be cautious on how they go about their business.
Around the Web