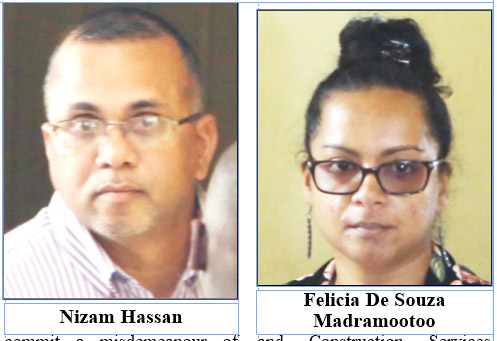 Finding that the prosecution failed to prove its case, Chief Magistrate Ann McLennan yesterday dismissed the joint charge against the former General Manager of the Guyana Marketing Corporation (GMC) Nizam Hassan and the wife of an engineer over payments purportedly made for substandard work on the company's headquarters.
The joint charge against Hassan and Felicia De Souza-Madramootoo had stated that they procured money by falsely pretense by continuously approving payments to Constantine Engineering and Construction Services, although the works were "incompetently and incorrectly" done.
The charge was laid after a Special Organised Crime Unit (SOCU) probe of the findings in a forensic audit.
Chief Magistrate McLennan told the court that she considered the evidence led by the 26 witnesses called by the prosecution.
In assessing the evidence by several witnesses, the Chief Magistrate stated that the court discredited their testimonies since they seemed to have had self-serving interests based on their responses to questions asked under cross-examination.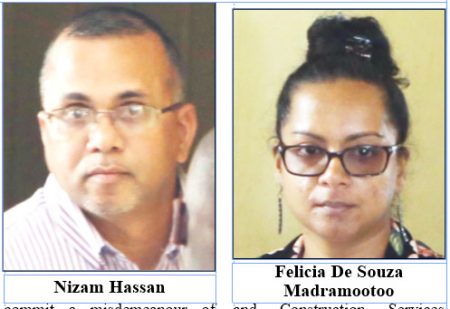 She added that there was no evidence that was presented by the prosecutor to show that the building materials used were inferior. She noted too that there was no false pretence because the same procedure adopted by Ida Sealey Adams, who served as the acting General Manager during the period Hassan was out, was adapted by Hassan.
Subsequently, Chief Magis-trate McLennan found that the prosecution failed to prove essential evidence of the charge and that its witnesses were discredited under cross-examination.
Upon these grounds, the court found that there was no prima facie case established and, therefore, there was no other choice but to uphold the no-case submissions made by the defence attorneys, who included Glenn Hanoman.
Initially, Hassan, De Souza-Madramootoo, her husband, the former ministry engineer Hanniel Madramootoo, his brother Philp Madramootoo, and his friend Nizam Ramkissoon, were all named as defendants in the matter. The latter two were said to be Directors of Constantine Engineering and Construction Services Limited, based in Trinidad and Tobago.
With police unable to locate the others, the charge was amended to allow for the trial of Hassan and De Souza-Madramootoo to proceed.
Hanniel Madramootoo, who was the Project Engineer within the Ministry of Agriculture, had been accused of conspiring to commit a misdemeanour of procuring money to be paid by false pretence with intent to defraud, together with the others between October 28, 2010 and April 25, 2012, by continuously approving payments which were made to Constantine Engineering and Construction Services Limited for works that were "incompetently and incorrectly" done with inferior materials to rehabilitate the GMC building, fully knowing that such works should not have been approved for payments.
Around the Web