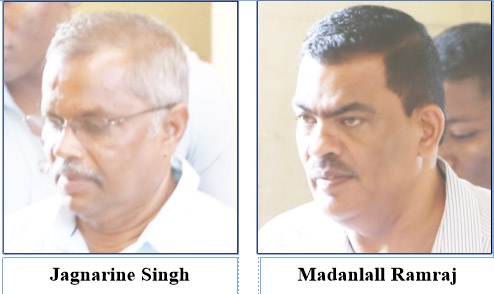 Former Guyana Rice Development Board (GRDB) General Manager Jagnarine Singh and agricultural consultant Madanlall Ramraj were yesterday read 34 new fraud charges, including for allegedly misappropriating over $9 million in funds.
Both Singh and Ramraj stood in the courtroom of Chief Magistrate Ann McLennan in Georgetown, where the charges brought by the Special Organised Crime Unit (SOCU) were read.
Neither of the accused was required to enter a plea to the indictable charges.
They were among GRDB officials who had been previously charged with the failure to record entries amounting to over $250 million in the agency's general ledger.
In 16 of the new charges, it was alleged that as members of the GRDB, at Lot 116 to 117 Cowan Street, Kingston, they omitted or concurred in omitting from the organisation's general ledger entries related to a total of over $7 million, in various periods between January 11, 2010 and July 17, 2012.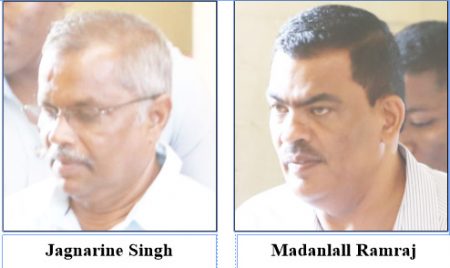 The remaining 18 charges allege that they fraudulently took or applied to their own use and benefit or for any other purpose other than the use of the GRDB, over $9 million, between January 8, 2010 and January 17, 2017.
Attorney Glenn Hanoman, who represented both men, told the court that he believes that the new charges are an abuse of the justice system, since his clients would have already been read charges that covered a more general time span.
He then requested that his clients be granted reasonable bail since they would have been co-operating fully with SOCU.
SOCU prosecutor Patrice Henry told the court that he had no objection to bail. However, he requested that it be substantial.
Chief Magistrate McLennan subsequently granted each of the accused his release on $1 million bail and ordered that both men lodge their passports with the court.
Attorney Hanoman then made an objection to his clients lodging their passports, saying they are both agricultural consultants and have to seek agricultural markets out of the country.
Hanoman also requested a reduction of bail for the defendants, while noting that his clients have been facing financial constraints. In response to the attorney, the Chief Magistrate stated that when the accused require their passports, they will have to write to the court. She denied the request for the reduction of bail. The matter was then adjourned to November 16.
A third named defendant, Peter Ramcharran, is also expected to be charged in relation to the matter. An arrest warrant was issued by the court for Ramcharran, who is currently in Canada. Ramcharran is currently fighting to not be sent back to his homeland.  He was granted CDN$13,000 bail; a CDN$10, 000 performance bond and CDN$3,000 cash when the matter was last heard in June of this year.
In June, the former GRDB board members were charged with failing to record entries for funds amounting to over $250 million in total in the agency's general ledger, from 2011 to 2015. Apart from Singh and Ramraj, the other persons charged  were Prema Roopnarine, former Deputy Permanent Secretary for the Ministry of Agriculture; Badrie Persaud, business consultant; Dharamkumar Seeraj, the General Secretary of the Rice Producers' Association and a PPP/C MP; and Nigel Dharamlall, also a PPP/C MP.
Around the Web