Decades after the construction of the Bartica-Potaro road, Phillip Allsopp, the man after whom the famous Allsopp's point was named, returned to view the sign re-erected to mark the location.
The sign, which marks the direction to locations such as Bartica, Sherima Crossing and Mahdia, was erected yesterday, a release from the Ministry of Public Infrastructure said.
"Located 19 miles outside Bartica is a spot known as Allsopp's Point. To frequent travellers, the point is easily distinguishable. But to the casual traveller the location is just like any other: a dirt road surrounded by trees, perhaps memorable by its two-pronged fork in the roadway," the release described the location.
The ministry had facilitated the visit, which was the first Allsopp, now 91, has made to the region in several years.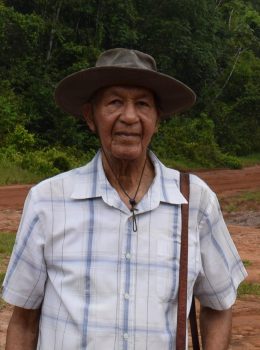 Allsopp's journey to the area is a remembrance of his many contributions to the Region 7 community, including the routing of the road along which Allsopp's Point is found.
According to the release, Allsopp, formerly the Chief Works Officer at the Ministry of Public Works, recalled being instructed by former President L.F.S Burnham to have the road constructed, but the President at the time, had reportedly been unsatisfied with the location proposed by the US Army.
It was stated that as result, Allsopp was asked to "bring his expertise to the table," and so it was that he came to be responsible for establishing the route of the present road network.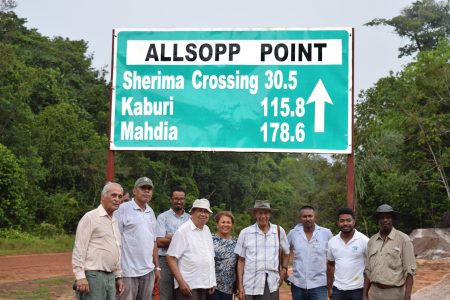 But Allsopp's contributions went far beyond the construction of that roadway, and extended even beyond the boundaries of Region 7, and the release named other contributions by the engineer as including the designing and overseeing of the construction of the Linden-Soesdyke Highway; overseeing works on Essequibo roads; negotiating funding for the Demerara Harbour Bridge while working as Technical Adviser at the Ministry of Economic Development and playing a role in the "realisation of the Takutu bridge."
Also present at the ceremony yesterday were Region 7 Chairman, Gordon Bradford; former President of the Guyana Association of Professional Engineers (GAPE) Joel Trotman; Edward Gonsalvez, former Chief Works Officer at the Ministry of Public Works; Bernard Matthews, former Government Surveyor; and Allsopp's daughter, Susan Allsopp.
Around the Web