A Black Bush Polder, Corentyne rice farmer yesterday put his losses at over $20 million after a fire, which he believes was the result of arson, destroyed his home.
Marvin Duncan, 78, of Lot 135 'A' Zambia, Mibicuri South, Black Bush Polder told Stabroek News that he and his wife, Claudette Duncan, 65, were heading to the Port Mourant Market when they received a message around 7.39 am yesterday that their two-storey house was engulfed by flames.
"My nephew call and say my house on fire. And I ask if he sure and he say, 'Yes man, you house on fire' and I tell them try to out it and I turn back from there and go Whim to call the fire tender," Duncan said. "Whim call Rose Hall fire tender but they didn't working and then later they call Corriverton but before Corriverton fire tender reach here, the house did already destroy," he added.
He then noted that lots of people in the community came out to offer assistance, however they were unable to save much. "Me had a shop downstairs and everything burnt up," he said, while estimating his total losses at around $22 million.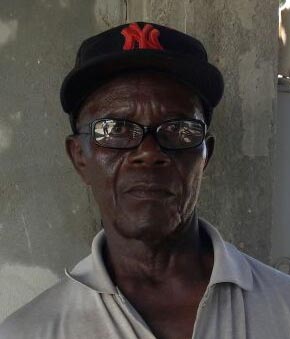 Duncan explained that his house was fully furnished and his general store and parlour were fully stocked. He said he also had several bags of paddy and farming items, which were destroyed, as were over $200,000 in cash and over $150,000 worth of jewellery.
Duncan told Stabroek News that he suspected that a fellow resident might be the person responsible for the fire, following recent incidents. "We had paddy in there. Somebody come and throw it out and carry way the bag. Last week, again, somebody go empty out the paddy and carry way the bag," he noted.
He said the suspect had "interfered" with him last year and he took him to court, which resulted in the man being placed on a two-year bond.
According to Duncan, the unemployed suspect would usually hang out at a nearby bus shed. "This morning when I going out the road, I saw him at the bus shed," he said.  Residents claim that after Duncan and his wife left home, the suspect left the bus shed for a short while. "In that time he could have come and set the fire," Duncan speculated.
The fire is suspected to have started at the back of the house, where the bathroom is located. "I have no electrical appliance at the back, none, so is he got to put fire in this house," the man said. "I get me toilet and bathroom and one window at the back," he added.
Duncan noted that the suspect is a known drug dealer. "He does sell weed and me quarrel and tell he you getting all them young boys in that ball field smoking weed, and I tell two big people and them say we got to try get he out the village," he added.
The fire service has launched an investigation to determine the cause of the fire. Persons desirous of assisting Duncan and his wife can contact them on telephone numbers 683-6053 and 678-7287.
Around the Web