Lethem, in Region Nine (Upper Takutu-Upper Essequibo), was on Friday formally declared a capital town and President David Granger used the occasion to call for cooperation at all levels of government, regardless of political affiliation, for the good of the region.
"Calling Lethem a capital town is not cosmetic or superficial; this is an important part of our development. People may not realise it now but this will be a transformative moment in Guyana's history," Granger was quoted as saying by the Ministry of the Presidency at a ceremony that was held in the town on Friday evening.
According to a statement that was issued by the ministry yesterday, Granger told the hundreds of residents who gathered for the event that the administration of the region takes place at four levels: internationally, particularly through bilateral relations with Brazil and other neighbouring countries; at the level of the regional administration; at the municipal level and at the level of Central Government.
"All four levels, all four strata have to work together. Who wins if this region is divided? Who will gain and who will feel pain? If we work together, all of us will thrive… We have plans and those plans are aimed at developing quality services to all of your people. Lethem must become an attractive destination for business, for tourism," he said.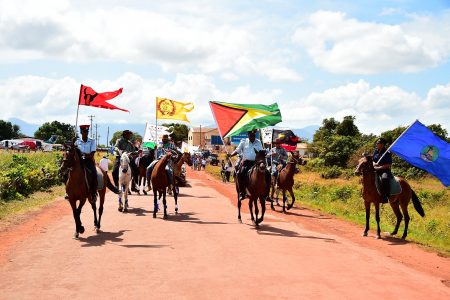 The statement said Granger reminded residents of the "erosion of democracy" that they were made to endure when the previous administration dissolved the Neighbourhood Democratic Council (NDC) and replaced it with an Interim Management Committee (IMC), which did nothing to advance the development of the region. It added that "democracy was restored" when the current administration held the long-awaited local government elections last year, for the first time in over two decades.
Granger, it said, reminded residents of the region of the unmatched natural beauty of the Rupununi and the tremendous potential it has for a thriving eco-tourism industry that could catapult the region's economy. "All of this is possible if we adopt a policy of cooperation, regardless of our political affiliation, instead of confrontation… There is nothing that this administration will do to prevent you from taking any reasonable step to improve the economic conditions of this region. We are not going to obstruct you, we will assist you," he noted.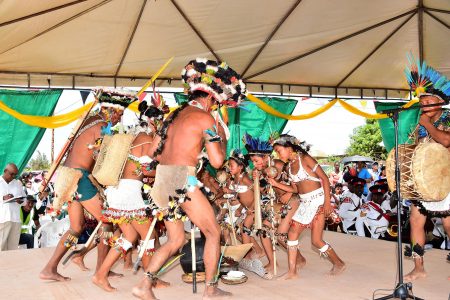 Since taking office, the statement said the president has created four new towns—Mabaruma, Bartica, Mahdia and Lethem—as part of his push towards the creation of economic centres in each region. Mahdia has not yet been officially declared a town.
President Granger explained that citizens must move away from the "compound" mentality, which the country inherited from colonial era, towards the establishment of thriving communities. To accomplish this, he said that each region must be administered by a capital town and make public services accessible to citizens.
He said that before the current administration entered office, residents of Lethem, particularly businessmen and women, had to travel to the coastland to register businesses and access other basic services. "We are putting an end to that absurdity by delivering public services…We are going to relieve the pressure on individual residents and farmers and communities as quickly and as best as we could that is why we are distributing and disseminating services. We want this capital town to provide every public service that a resident needs," he said.
Meanwhile, Lethem Mayor Carlton Beckles was reported as saying that the town will drive the development of the entire region by attracting the much-needed investment, especially since it already has a rapidly developing industrial zone. He also informed that residents will soon see a housing boom in the region as over 500 acres of land has been identified for housing development. "There is a direct correlation between your personal development and that of your community. Therefore, to continue your journey of personal development, you must have community development," he was quoted as saying.
Regional Chairman of Region Nine Brian Allicock also spoke at the event and he said a plan of action in which various aspects of development will be incorporated, particularly in the areas of housing and infrastructure, is being crafted. He also used the opportunity to call for greater support for the security forces stationed in the region.
After the official ceremony, President Granger unveiled a plaque that was erected in a central area in the community, called the Declaration Park, to officially declare Lethem a town. He also received the symbolic key to the town from Beckles.
In addition to hundreds of residents, Friday's ceremony was also witnessed by local and foreign dignitaries.
Around the Web