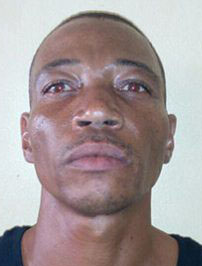 A New Amsterdam prisoner who escaped lawful custody in 2011 and was recently recaptured in Suriname was yesterday charged and remanded for murder at the New Amsterdam Magistrate's Court.
Rickford La Fleur, 43, was read the charge which stated that on May 1, 2011 at the New Amsterdam Prison he murdered  Sebastian Cleto.  An unrepresented La Fleur appeared before Magistrate Alex Moore.
Meanwhile, Police Prosecutor, Inspec-tor Godfrey Playter told the magistrate that some additional work needs to be conducted.
The court heard that three other men were initially charged for the said murder as well. However, the case against two of the men has since been dismissed, while the third is still ongoing. Police were unable to charge La Fleur for the murder in 2011 since he escaped sometime after allegedly committing the act.
Bail was refused and La Fleur was remanded to prison until his next court date on December 8.
La Fleur reportedly escaped from prison on June 11, 2011. He was recently recaptured in Suriname and handed over to the Guyanese authorities.
He was wanted in connection with the murder of Cleto, who was fatally beaten in 2011 in the New Amsterdam prison, and the murder of Lennox Hetemyer in 2010. At the time of his escape he was on remand for murder and possession of narcotics for the purpose of trafficking, police said.
Around the Web