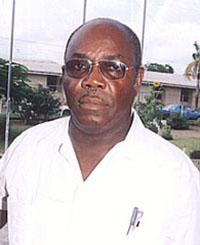 With the life of the Public Service Commission having ended, its former Chairman, Carvil Duncan, will no longer continue challenging President David Granger's decision to suspend him.
At a report-hearing before Justice Brassington Reynolds yesterday at the High Court, Duncan's attorney, Anil Nandlall, said that given the prevailing circumstances with the passage of time, his client is no longer interested in pursuing the matter.
He said that with the constitutional life of the Commission expiring on September 30, "the case has lost its practical value, and so, my client is no longer interested in pursuing it."
Nandlall said that the challenge was designed to prevent Duncan's removal, and noted that while it raises legal issues for which a ruling would be of great public importance, he was mindful of the court's workload.
Conceding Nandlall's argument, the judge said he knew of Nandlall's commitment to various matters before other courts.
"My application, therefore, is now to withdraw and discontinue these proceedings," the lawyer declared, on behalf Duncan, who was a no-show.
Nandlall did, however, successfully appeal to the court not to impose cost against his client, whom he said "should be credited for not prolonging the matter."
According to counsel, the lengthy time for which the case has been before the court is due to no fault of his client and he pointed instead to issues such as the impasse between the Attorney General (AG), Basil Williams and Justice Franklyn Holder, who previously presided over the case.
At a hearing on October 11, Solicitor General, Kim Kyte-John, had argued that the matter should no longer be engaging the attention of the court, since the life of its subject-matter no longer existed.
At that time, however, another of Duncan's attorneys, said that he was still to receive instructions on the way forward, from his client who was absent.
The case will be remembered for the berating of the judge by the AG in court which eventually led to the judge recusing himself from the matter. Prior to him recusing himself from the case,  the judge had said that Williams' conduct was despicable and that statements he made constituted "contemptuous behaviour."
Around the Web