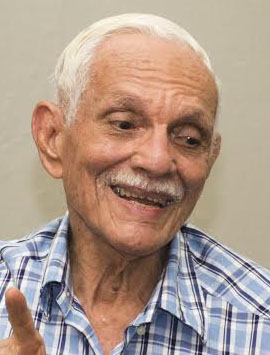 Veteran broadcaster Tommy Rhodes, who became a household name as the anchor of the VCT Evening News, has died.
Rhodes, who was 84, died at his daughter's residence in Bon Fim, Brazil, yesterday morning.
Judy De Freitas, one of his daughters, told Stabroek News that Rhodes had no health complications and his death was a shock to her family. In fact, she said that up to last week doctors told him that his heart was strong.
Rhodes started his broadcasting careering at Radio Demerara, before taking up the anchoring position for the Evening News. Rhodes, a trained agronomist, also worked with the Ministry of Agriculture, Geddes Grant and Central Garage.
In a Facebook post, the Guyana Press Association said he was a familiar face during a time when news and news gathering were very different. "Today, he has left a legacy for many to follow in the industry," it added, while extending condolences to Rhodes' family.
Veteran journalist and Kaieteur News Editor-in-Chief Adam Harris recalled working with Rhodes during mid-90s at VCT. He said Rhodes was a man who believed in preparation and he would arrive at the studio a half an hour before anchoring the news and go through his script. Rhodes, he noted, would make his own corrections to the script to ensure that his delivery sounded as natural as possible.
Harris stated that Rhodes set a standard for news anchoring in the country with his approach and noted that he also took young broadcasters under his wing and mentored them before moving to live in Brazil with his daughter.
Business Editor of the Stabroek News Arnon Adams said Rhodes brought an element of professionalism to reading the news at a time when television was still "on very shaky legs."
De Freitas said Rhodes' interest in the news never waned and he would ensure he kept abreast of the news from around the world.
Rhodes is to be laid to rest today in Bon Fim next to his wife.
Around the Web