Junior Communities Minister Valerie Patterson-Yearwood yesterday announced that squatters, who have been told to remove from the government reserve in Sophia, would be given an extension until the end of January, 2018 to relocate.
"I am aware that the notice said that you are given two weeks to move but we have agreed to extend this [time] to end of January, 2018, which gives you enough time to get your act together…," Patterson-Yearwood told a press conference, which followed a protest by the residents outside of the Central Housing and Planning Authority (CH&PA).
The minister also said making lots available at Industry, on the East Coast of Demerara, was one of the options being examined for the relocation of the squatters as is building core homes for those who cannot afford to build.
Hours earlier, scores of residents planted themselves opposite the CH&PA's offices along Brickdam and declared that they were going to continue protesting until they were treated fairly.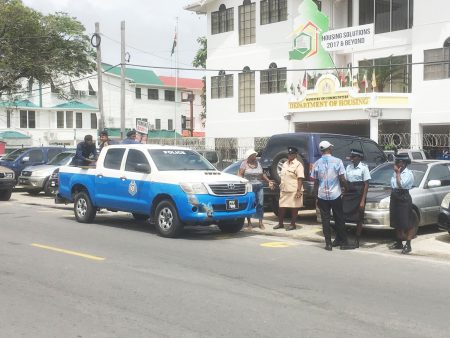 Armed with a placard, one resident placed a kerosene stove with a pot on the road and claimed that she wasn't going to move until the matter was settled amicably. "…And tomorrow we gonna bring a mattress and we furniture and we going to stay here until we get choice," the woman proclaimed.
The residents even brought their children to the protest and some held placards in solidarity with their parents.
"We know it's illegal to live on the dam but we have nowhere else to go. I applied for land since 2007 and I haven't gotten back anything since. They call me for an interview since 2010 and told me I was going to get Parfaite Harmonie but since then me ain't hear nothing and I have been checking ever since," Shirley Gomes, one of the squatters from 'A' Field, Sophia, told Stabroek News during the protest.
Another resident, Jermaine Richards, said that he was depressed over the move to remove them and predicted a very bleak and sad Christmas for the people of Sophia if nothing was done.
"How you gonna throw people off the land and they don't have anywhere to go? Is from 'A' Field to 'B' Field to Red Road that got people. Look at the amount of people and families that they want to throw off the lands and you have to study that. You have to study all the children that will be affected by this. They putting us under tremendous stress," Richards said.
"People got dey children to look after. They ain't even saying they gon do it next year, they just want do it now and fast and you can't tell people that they got to move in two weeks and you not giving them anywhere to go. Where they supposed to take their children? [President David] Granger seh that the children is the future but you not acting like that," he added.
Richards reiterated that most of the residents that were protesting had applied for land more than a decade ago but to no avail and as a result they have nowhere else to go.
"You feel we does enjoy living on the dam like it is? Is we had to clear all them big, big bush that they had. We want to move and we willing to move and pay for our own lands but we don't have anything or anywhere to go," he said.
Even if they are able to purchase their own lands, the residents related that they cannot move from the area by the end of the year.
"It depends too on how far we get these lands 'cause we have to get time to carry we stuff over and build we house. We can't move just like that, is not fair," another resident said.
"We could move but at least you got to assist we," another pointed out.
'Reasonable time'
The protest was sparked by the recent CH&PA demolition exercise targeting structures that were illegally built on the government reserves in 'A'  Field and 'B'  Field, in preparation for the execution of community development works under the US$30 million 'Road Network Upgrade and Expansion Programme.' Some two dozen structures were demolished, included abandoned ones, recently built units, and some that were under construction.
Patterson-Yearwood yesterday said some 266 notices for removal were served to squatters in recent days. Some 51 were given to shops in the reserve area. The minister said when she took office she had visited Sophia and over 200 families were squatting but the number continues to grow.
After announcing the extension, Patterson-Yearwood said that at the end of the period persons should not complain or object to the CH&PA's plans since she believes the time given is reasonable for them to find new accommodations. She also urged those who never applied for lands to submit applications for house lots.
Patterson-Yearwood also said that the CH&PA was looking to make house lots available in Industry to relocate the squatters and it is seeking the resources to execute the relocation. "We are working on having available house lots to those who can afford to build, because not everyone who are squatting can't afford to build… we are also working to build some core houses so that we can relocate those… who are squatting and can't afford to build," the minister explained.
She noted that priority would be given to the squatters to occupy lands at Industry once they have sourced the finances to begin infrastructural work in the community.
Patterson-Yearwood pointed out that providing quality homes to those who cannot afford to build is important since the aim of the government is to raise the standard of living of every Guyanese. "We cannot give them a piece of land and they go and build a shack… it is like moving one shanty town to another… so we are looking to build homes for those who cannot afford,"  she added.
She also urged persons who are building their homes but are currently living on the reserve to "come in and talk with us… we are listening to you and we will work with you." She, however, cautioned those who do not make an effort to have suitable living conditions that "if you sit at home and do nothing time will tell."
The minister noted that she has the responsibility for providing suitable housing solutions to Guyanese, which is why she is attempting to eradicate squatting.
Around the Web