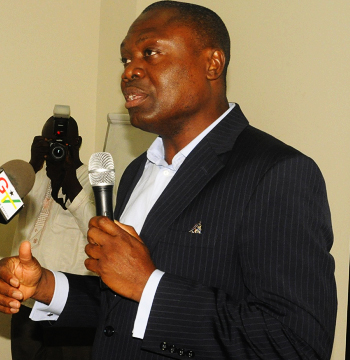 Guyana's private sector has been urged to act now to secure their place in the local oil and gas industry.
"Think long term but act now, develop capacity, compete fairly and pay your taxes. Deploy innovative strategies to deepen indigenous participation, develop people, grow companies, cut cost, improve efficiency and impact the people and the economy of your Guyana," Theophilus Nyamko Ahwireng told a packed hall at the Pegasus Hotel on Tuesday.
Ahwireng, a former Chief Executive Officer of the National Petroleum Com-mission of Ghana was at the time delivering the seventh public lecture organised by the Guyana Oil and Gas Association (GOGA).
During his lecture entitled the "National Petroleum Commission Resource Management, Governance and Sustain-able Development of Oil and Gas, the Ghanaian Experience"  Ahwireng detailed how Ghana has worked to include its indigenous businesses and in several cases a large section of unemployed youth into its local oil and gas industry.
Along with the passage of a number of laws to ensure transparency, fairness and regulatory predictability, Ghana, he explained has taken affirmative action through programmes such as the Ghana Upstream Sector Internship Programme (GUSIP).
The intention of this programme, which originated out of a study into the large expatriate population of Ghana, is to build capacity in Ghanaian youth to participate in the oil and gas industry.
"Our study showed that youth lacked the experience needed so how were they to build the experience. They have done so through this programme", Ahwireng said.
He also noted that studies into the participation of various indigenous industries found that they lacked the capacity to participate.
Speaking specifically on the insurance industry, he said that a study found that it was not participating at all in the industry so the Insurance Protocol was developed which directs companies to utilize the Ghana Oil and Gas Insurance Pool (GOGIP)
Presently the GOGIP is the exclusive vehicle for underwriting upstream oil and gas insurance business in Ghana with objectives such as the capacity creation for oil and gas insurance risks emanating from Ghana with a view to reducing foreign exchange outflow and ensuring that oil companies within Ghana are charged competitive premium rates that will help to enhance profitability and stabilize the Ghanaian Oil and Gas Insurance market.
Despite these provisions Ahwireng explained that the Ghanaian insurance landscape has so far shown capacity to handle less than 5% of the business available,
As such he stressed that the local private sector has a responsibility when these opportunities come to take the challenge to develop capacity.
"Having the business environment right is very important," he explained noting that a truly successful oil and gas industry thrives on strong coordination among a wide range of stakeholders including government ministries, departments and agencies working in association with international and local industries, communities, civil societies and others.
"Like an orchestra each must play its part," Ahwireng said.
Around the Web