Nine persons including three foreign nationals were on Tuesday arrested on the Barima River, north west  after ranks of the joint services intercepted a boat and found a quantity of illegal items including an AK-47 rifle.
Stabroek News understands that a joint services operation was carried out by the  Guyana Police Force 'F' Division and members from the Guyana Defence Force coast guard during which an AR-15 and an AK-47, two magazines, nineteen live rounds of ammunition, a bullet proof vest and 1.5 kilogrammes of cannabis sativa was discovered.
Two boats: a fibre glass boat and on aluminum boat with 250 hp and 48 hp engines respectively were also impounded.
The arrests were made after the police acted on information they received that a gang of armed men were in the Churches Landing Mining Community acting suspiciously.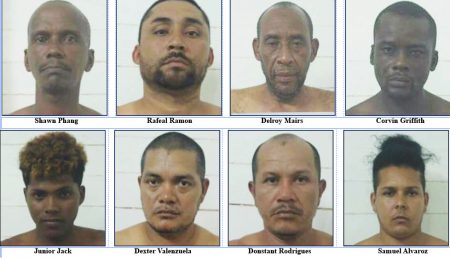 Those in custody have been identified as Junior Jack, 19, a resident of North West District; Donstant Rodrigues of Moruca; 25-year-old Cuban national Samuel Alvaroz; Shawn Phang, 49 of Port Kaituma; Dexter Valenzuela, 44 of Crane, West Coast Demerara; Corvin Griffith, 48, of Grove, East Bank Deme-rara; 53-year-old Jamaican national Delroy Mairs also of Albouystown,  37-year-old Rafael Ramon of Venezuela and 62-year-old Carrington Khan.
The men were reportedly on the radar since Monday evening.
"Last Monday evening acting on timely information received a party of policemen and soldiers responded promptly during which they demonstrated the necessary courage and determination over an extended period, which culminated on Tuesday evening, with the interception and arrest of nine suspects", the police in a statement said.
Reports revealed that the ranks intercepted the fibre glass boat which was allegedly captained by Khan and carried three other occupants. At the time, this boat was towing the other which was transporting five passengers. A search was carried out on the fibre boat and illegal items were unearthed.
Arrangements were being made up to last evening to have the men flown to the city where they will be questioned by ranks from the Criminal Investigation Department (CID), Eve Leary.
"These arrests are very significant as several weeks ago there were reports of piracy in the Waini River area, several miles from the Police Floating Base MV Tamakay", the police said.
Around the Web